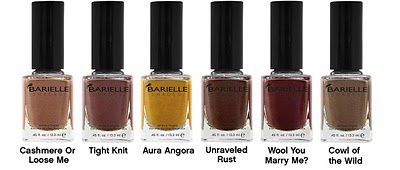 (Definitely click on the picture to see it bigger :))
And it's finally here! AnotherFall collection this time from Barielle Shades. Collection consists of six shades:
Cashmere Or Loose Me
Tight Knit
Aura Angora
Unraveled Rust
Wool You Marry Me?
Cowl of the Wild
What Barielle says about the collection: "
Fend off the season's chill with six new colours from Barielle's Style In Argyle Autumn collection. With a rich colour palette to choose from and their signature '3-free' formulation, this collection is inspired by stylish Argyle fashion colours. Formulated to provide nails with safe, healthy and long lasting glossy colour coverage, Shades by Barielle is free of formaldehyde,
tolune and dibutyl-phthalate.  It is also safe to use Barielle products
Professional tip from celebrity manicurist Pippa Hebden – 'Creamy toned polish is the perfect compliment to any autumn wardrobe'.   To spice up your manicure and create an ombre finish, Pippa suggests mixing two to three drops of your favourite Shades polish into a clear top coat, polish, let the coat dry and then polish from the middle to the tip for that autumn foliage feeling."
As you may have noticed the
polishes have a new elegant bottle design
which will stay for ongoing collections. The Style in Argyle collection
will be available from mid September
and I am really looking forward to show you some swatches later :)