*PR samples
Hello lovelies,
Today's post is massive, fun and colourful! I'm reviewing the whole OPI Brazil collection which has been released in February 2014.
"Brazil by OPI brings the colors of tropical rainforests and warm sandy beaches to nails and toes for Spring/Summer 2014. This new collection features a palette ranging from bright hues of red, pink, coral, orange and yellow to earthy tones of taupe, sienna, mocha and jungle green. In addition to 12 nail lacquers, the Brazil launch includes a set of four limited edition Beach Sandies Liquid Sand™ mini neon nail lacquers in bold purple, pink, turquoise and yellow shades with a textured, matte finish."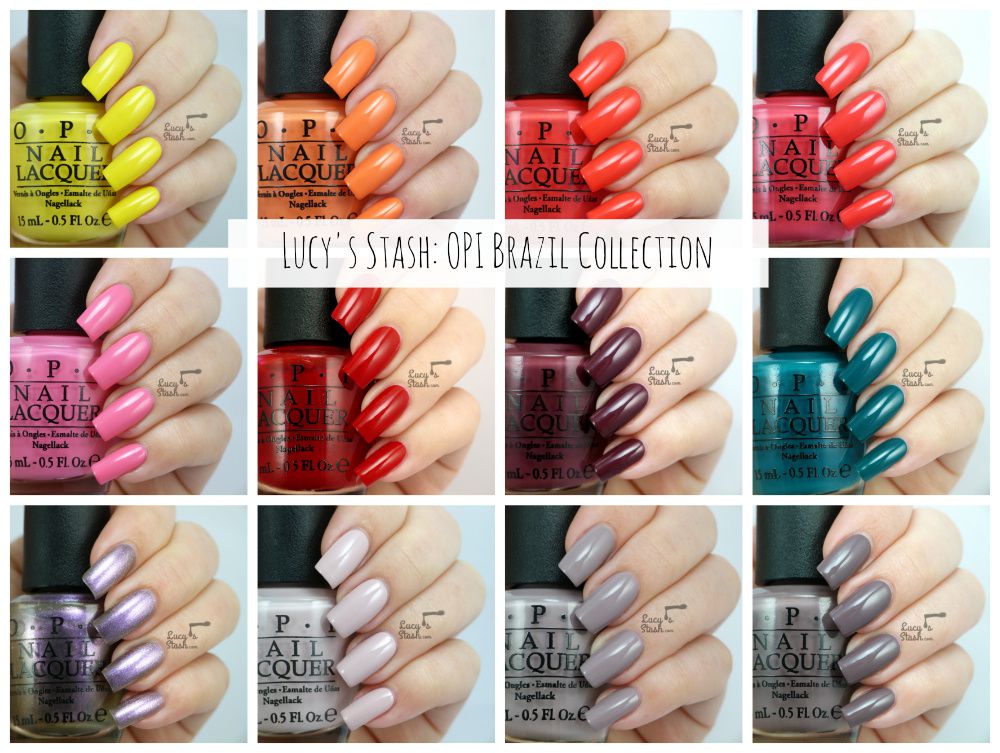 I Just Can't Cope-Acabana - medium yellow creme. This pretty canary yellow will brighten anyone's day! It's slightly lighter shade of yellow than the full on vivid shades. The formula was easy to apply but not as well pigmented. I needed two thick coats (or three thin coats would do) for good coverage.
Where Did Suzi's Man-Go - mango orange creme. It's a very cute lighter shade of orange that flattered my skin tone so I enjoyed wearing it. The formula was a bit tricky - it was drying very fast so when I tried to apply thin coats it was a bit patchy. So I applied thicker coats. Two thicker coats were enough for good coverage but generally the pigmentation is lower, same as with I Just Can't Cope-Acabana.
Kiss Me I'm Brazilian - lighter pink creme. This is a nice shade of pink but sadly it is not unique at all. It has the same formula as the two shades above so I needed two thicker coats for good coverage.
Live. Love. Carnaval - vibrant coral creme. Now we're talking Summer! Live Love Carnaval is very bright red-based coral creme with excellent formula. It applied very easily and all I needed were two thin coats. The polish is almost one-coater so it will be brilliant for nail art.

Toucan Do It If You Try - red orange/coral creme. This coral shade has more orange than undertones and although it looks very similar to the Live Love Carnaval, there are differences. The formula was good and easy to apply and two regular coats were enough for full coverage.

Red Hot Rio - vibrant ruby red crelly. I absolutely love this shade of red as it's glossy and has a bit of jelly finish to it and cherries spring to my mind. The formula was also good. it applied well and two thicker coats provided nice coverage you see in the pictures.

AmazON...AmazOFF - jungle teal green creme. This is THE stand out shade in this collection. I love a good teal and this one is just so gorgeous! It has a very subtle silver finish to it but it is almost unnoticeable. Although it's a gorgeous shade it has its flaws - the formula was runny so I had to make sure I don't have too much polish on the brush. I needed two coats for good coverage. A bit minus for me was staining which wasn't the worst one I've experienced but still, this polish stains so be aware.

Next Stop…The Bikini Zone - amethyst-toned pewter. I think this colour is quite unique as I haven't seen many like this. It has slight colour change to it and I like the amethyst tones coming nicely through. It is on a sheer side though so I've applied two thick coats (three thin coats would do). It dried fast and applied ok. I had to pay attention to brushstrokes to avoid streaks.

Don't Bossa Nova Me Around - pale creamy nude creme. Lovely light shade with a bit of mauve undertones that is definitely office friendly! The formula was easy to apply and two coats provided good coverage. It also dried fast and glossy.

Taupe-Less Beach - light taupe creme. I'm very inclined to call this shade greige despite OPI's description. It looks very much like a mix of grey and purple with maybe hint of taupe. I like this shade, it's elegant and classy. It applied well but the pigmentation was a bit lower so I've applied two thick coats.

I São Paulo Over There - dark mauve creme with taupe undertones. This is basically a dark version of Taupe-Less Beach, very cool for Autumn/Winter season. It also has the same formula. It applied well but the pigmentation was a bit lower so I needed two thick coats.

Scores A Goal! - rich maroon brown creme. Another pretty shade that I would rather wear in Autumn/Winter. Nevertheless, I like how rich and deep the shade is. The formula was a bit watery but still applied ok and two thicker coats were enough for full coverage.

Overall, I love most of the colours but some of the polishes don't have that well-pigmented creme formula I'm used to with OPI. They all dried fast and glossy but I still applied topcoat over each polish. I think I'd rather see the second half of the collection for A/W season and instead added some neons and bright purples, greens and blues.
If you'd like to purchase OPI Brazil collection, it is available at your usual outlets, at Amazon.com (US) and for UK at The Nail & Beauty Link (UK, just register to shop), opiuk.com (UK), Feelunique (UK).
*PR samples