*PR sample
Hello lovelies,
I've got here three very special and very beautiful polishes by Darling Diva. They are from the Queen inspired collection and they are multichrome holos!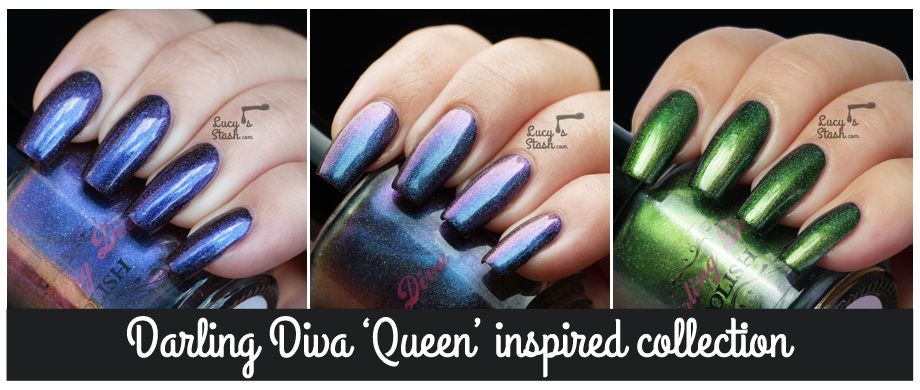 The formula of all three shades was the same - very easy to apply and well-pigmented. They also dried fast but I needed a topcoat to achieve high gloss. The holographic particles are subtle in the shade, giving the polish hints of sparkle but in the sun they transform the polish into a rainbow spectackle. So let's have a look at the beauties...
Killer Queen - blue-purple based multichrome with scattered holo particles. The polish shifts from deep rich blue tones through multiple purple shades to hints of burnt orange. I've applied one coat over black polish.

Bohemian Rhapsody - green-based multichrome shifting from olive to bright green shades. Additionally you can spot purple and blue shades as well. This beauty is also packed with holographic particles. One coat over black.

Crazy Little Thing Called Love - blue-based shade leaning heavily to the purple shades. It has quite strong colour shift and I can see some hints of burnt orange shades appear in certain angles. I've applied one coat over black.
Ok these seriously remind me Enchanted polishes which I've been lemming for ages and it's a good thing because I've been waiting ages for somebody to create these! They are all stunning with great formula and strong colour shifts. And I have some more to come!
Darling Diva is available at Etsy Store, at DD's web page and Llarowe. For updates visit Darling Diva Polish Facebook page.
*PR samples