Hello lovelies,
Today I will show you more gorgeous Shimmer Polishes. You can view the previous Shimmer Polish swatches here.
Brooklyn - mix of big gold hex glitters with smaller aqua, purple and blue glitters. I have layered one coat of Brooklyn over Essence I Love Bad Boys. There is plenty of glitter in the bottle so one coat was more than enough for a good coverage over Essence polish. It applied easily and dried fast. I've applied topcoat.
Elsa - mix of red, gold and blue glitter.  I like the twist on the classic red-blue-white colour combination. I've applied thicker coat of Elsa over black to show the colours perfectly. Again the formula was good, easy to apply and glitter density was good. I would recommend this polish for layering rather than wearing by itself.
Mary - dark red jelly base with black, rainbow, red and blue glitter. I love Mary! It's such a gorgeous glitter bomb and look how gorgeous it looks over white! The red jelly based coloured the white and the result looks lovely. It instantly reminds me of a Valentine's Day. This is one thick coat of Mary which has great glitter density and easy application.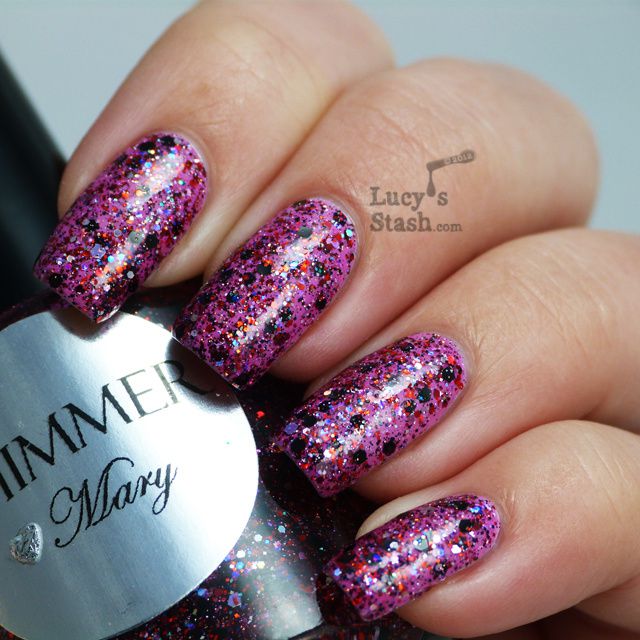 Nichole - mix of red, blue and silver glitter in a clear base. Yes, this is the perfect colour combination for the patriots out there whose flag colours are blue, red and white. If I think about it there's so many countries that fit that description, to name few UK, US, Russia, France and of course Czech Republic and Slovakia :) I have applied one coat of Nichole over white. It has the same great formula and glitter density as the other polishes.
Sonia - rose pink jelly with pink, purple, blue, gold and green glitter. It's a lovely feminine mix of colours and I've worn it by itself. I have applied three coats and one layer of topcoat which provided good coverage. It dried little slower because of the amount of nail polish on the nail. If layered it dries faster.
Strength - mix of turquoise, silver and holographic glitter in a clear base. The beautiful turquoise glitter comes out nicely over black background. The amount of glitter was dense yet easy to apply and polish dried fast...just like all the others :)
Vicki - mix of rose pink, gold, holographic in a pink tinted jelly base. I have layered one coat of Vicki over Color Club Secret Randez-vous, romantic pink creme. I really like this combination, it's very girly and also great for the upcoming Valentine's Day. It applied very easily and dried fast. I've applied topcoat.
I've got even more gorgeous Shimmer polishes to come so keep your eyes peeled! They all have really good formula and they apply well and when one layer applied they dry really fast too.
Check out all the Shimmer Polishes at Shimmer Polish Etsy store.
 *These were provided for a review