*PR samples
Hello lovelies,
I haven't shown you any swatches of the OPI Coca-Colla collection so here they finally are! Unfortunately couple of bottles broke in transit so I've decided to do 'my picks' post instead and I'll show you six of my favourites from this collection.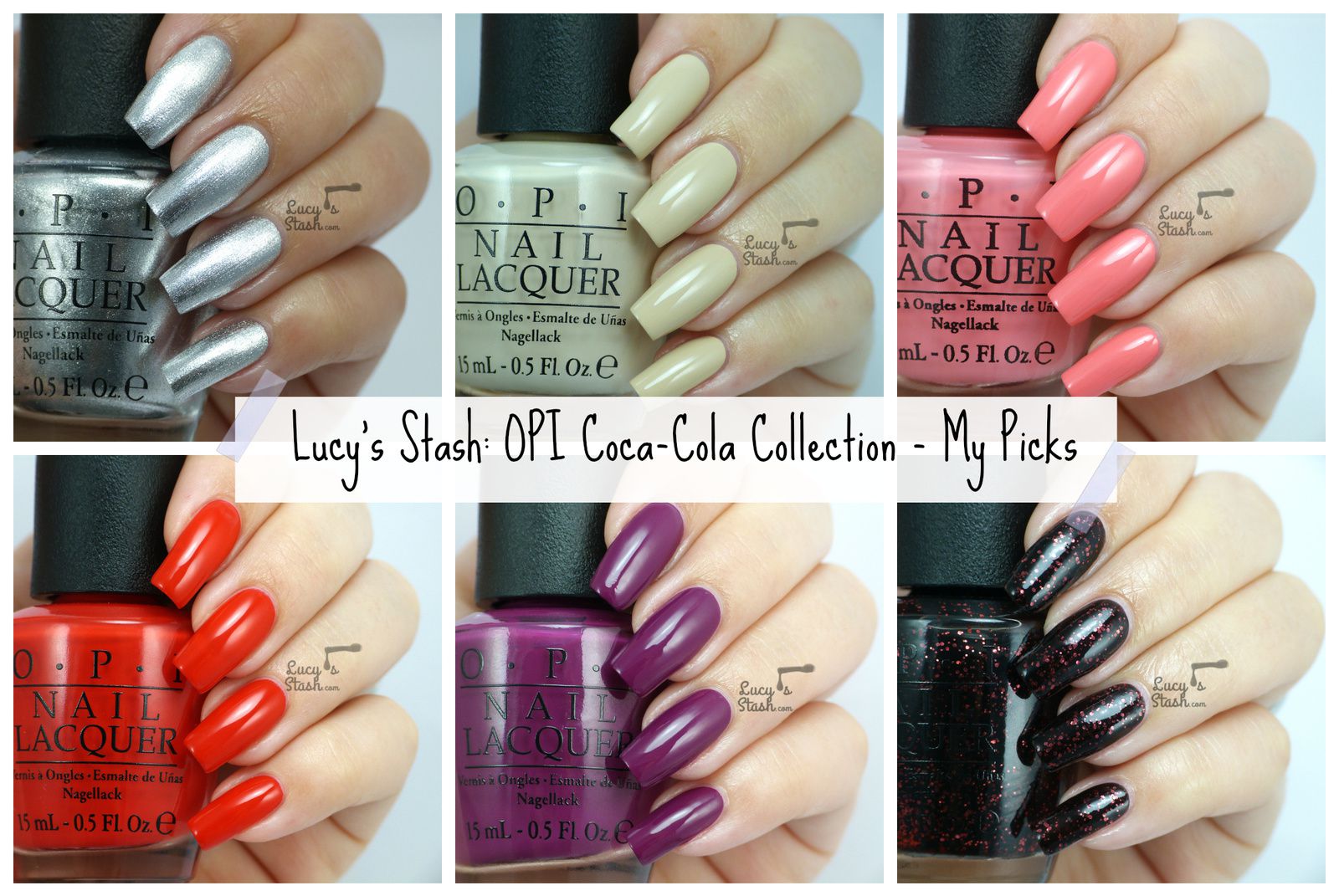 You're So Vain-illa - light vanilla-beige creme. This was an easy pick because You're So Vain-illa is perfect base for any vintage-style nail art. I've applied two thicker coats for full coverage. It applied easily and dried fast. I've already used You're So Vain-illa in nail art, you can see it here.
Sorry I'm Fizzy Today - muted coral creme. I like this shade because the classic pink coral colour don't suit me very much. But this one is not as bright. The formula is a bit sheerer, I needed three coats for full opacity. Otherwise it applied well and dried fast.
Coca-Cola Red - bright tomato red creme. Oh what a stunning shade of red! It's timeless and super glossy and very well pigmented. I've applied two thin coats for good coverage. It dried fast and smooth.
Get Cherried Away - medium purple creme. It's a gorgeous purple but it's much warmer than my pictures show. It applied nicely and two coats were fully opaque.
My Signature Is "DC" - metallic silver. I couldn't leave out this beauty, could I? I was a bit afraid it will be streaky or patchy but I was very pleasantly surprised. It applied very easily and without any streaks. Two regular coats were fully opaque and it dried fast. Perfect!
Today I Accomplished Zero - black jelly base with red glitter. This one is that classic goth-y shade great for Halloween. It's a bit on the sheer side, I needed two thick coats for full coverage. It dried fast but gritty so I needed a thicker topcoat.
So those are my top picks from the OPI Coca Cola collection. I hope you enjoyed my swatches :)
OPI polishes are available at your usual outlets, at Amazon.com (US) and for UK at The Nail & Beauty Link (UK, just register to shop), opiuk.com (UK), Feelunique (UK).
Have a lovely day! Lucie x
*PR samples