*PR samples
Hello lovelies,
I've got some more swatches of Femme Fatale polishes to show you and as the title suggest, you can expect a rainbow in a form or holo shades. It took me a while to get them swatched because..well there were no proper sunny days in England for weeks. All three shades have strong holographic effect and the first one we'll be looking at is Mirror Of Dawn.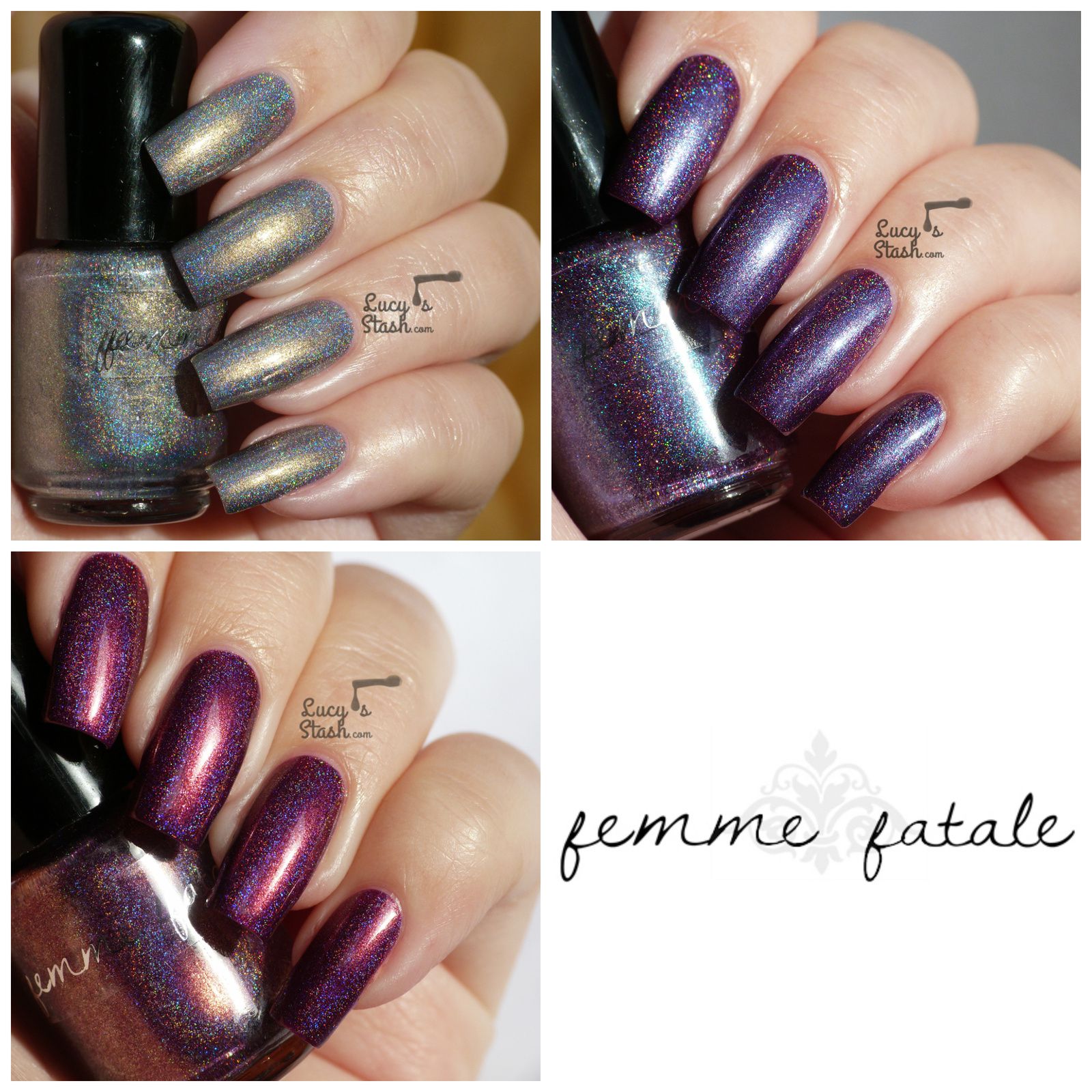 Mirror Of Dawn - dusty golden green base packed with holographic particles. Mirror Of Dawn is a very unusual dusty olive shade with a strong holo effect. It is rather on the sheer side so I needed two thick coats but three regular coats would do the same job. It dried fast and smooth. I applied topcoat but please excuse the little dent on the ring finger, I was clumsy :D

Burning Dusk - grape purple full of holo particles. The base has a nice blue colour shift making it cool-toned, blue-based purple. It applied easily and the polish was opaque in two coats. It dried fast and slightly satin so I've applied topcoat.

Ruby Hare - red-based purple duochrome base shifting to rose pink with holo effect. The best at last! ;) Ruby Hare is simply stunning and my favourite shade of red-based purple...plus it is holographic! The formula was really well-pigmented and two thin coats were enough for full coverage. Polish dried fast and glossy but I still added a coat of topcoat.
Overall, I liked all three shades although Ruby hare was my favourite by far also thanks to higher pigmentation. Just as I am writing this post the postman knocked on the door and brought a fab package from Femme Fatale with some more mini Femme Fatale polishes so expect more holo beauties and maybe some thermals ;) What an awesome coincidence!
You can also check out two previous FF review posts here and here. Femme Fatale polishes are available at their website and at their various international stocklists.
EDIT: Their e-shop is closed til 6th March apparently :(
*PR samples