Disclaimer: I am affiliated with LART - I'm the official UK reseller and Educator for the UK
Hi there,
How are you all doing during this difficult time?
I've been cheering myself up with new manicure every few weeks and boy, did I miss having my nails pretty!
Today I want to share with you a very colourful rainbow manicure I've recently worn. I've used LART and Bio Seaweed gel polishes and I'll include a short comparison of the two brands further down.
My friend BB over at SNSnailskent bought the LART Hybrid Gel polishes and I really wanted to try them out to see whether we should stock them for the UK market. That's how this manicure started...
I was testing out four LART Hybrid Gel polish shades to try the opacity and formula and their Infinity Base & Top coat system. Once she left I really didn't want to take those lovely bright colours off so I looked into my stash of gel polishes and picked some Bio Seaweed Gel polishes to finish off the other hand. And since I'm wearing two different brands I might as well compare the two!
Here are the colours I've used:
LART 014 Lotus Flower
LART 012 Chilli
LART 411 Honey
LART 602 Berry
Bio Seaweed Gel #80 Shipwreck
Bio Seaweed Gel #228 Very Berry
Bio Seaweed Gel #194 Mermaid
Bio Seaweed Gel #107 Pinky Swear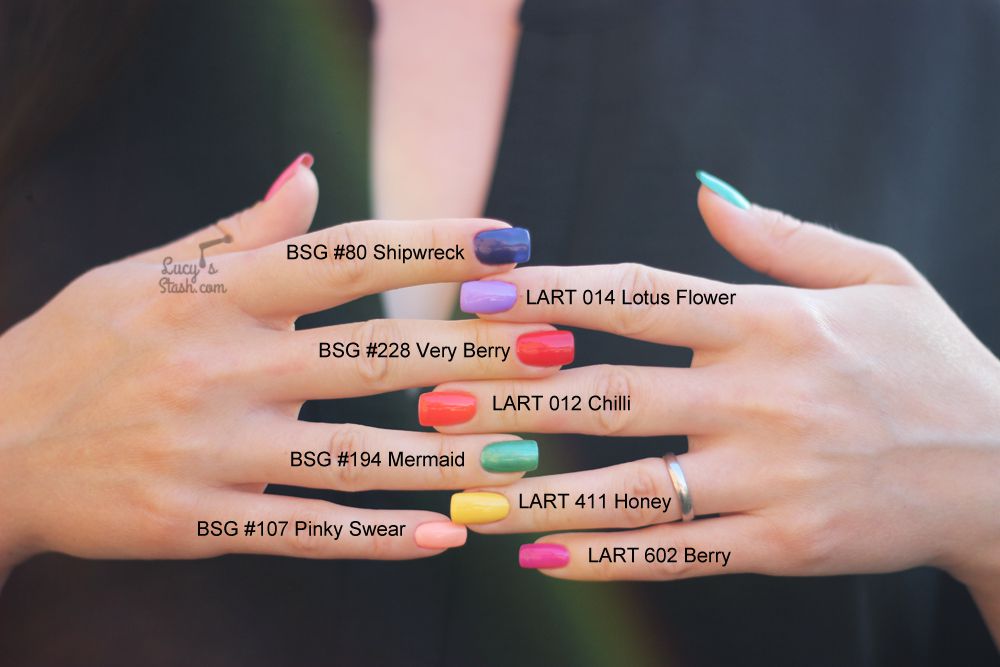 Opacity
Both brands had shades that were fully opaque in two coats and then some that would need three coats to be perfect. I think most brands have this problem but I would like to see only a few shades that do this to really love a brand.
With LART, the mustard-coloured shade Honey was the one that would look better with three coats but I could JUST get away with two. I find most yellow colours do this and lack good opacity. Other LART colours were lovely and opaque in two coats.
With Bio Seaweed Gel the opacity was a bit worse. The Shipwreck (dark blue/purple) definitely needed three coats to be nice and dark and so did the Pinky Swear. The others were quite lovely in two coats.
Application
Both LART and Bio Seaweed Gel were lovely to apply and I had absolutely no issue with consistency or their brushes apart from the lower opacity of few shades.
Strength
I've included this category because for me it's important how much strength the gel polish provides for the nail, especially when the nails are weak and thin.
I've noticed a huge difference in strength and it surprised me. With Bio Seaweed Gel, my nails were still weak and very flexible. So much so that one has already cracked from my nails underneath being too flexible.
However, with LART it was very different. My nails were supported, the nails had strength and didn't bend nearly at all. There was a tiny bit of flexibility but not enough to damage my nails by accident. The Infinity system of Base and Top coat is designed to provide extra strength and can also be used to extend the nail up to 2mm which is the first time I've seen this possibility with a gel polish system.
Longevity
I've had the polishes on for 10 days in total.
The first problem appeared three days in when I bent one of the nails with Bio Seaweed Gel on. The nail itself is ok but the Bio Seaweed Gel cracked and I could see a start of peeling off. What a shame!
Later on I've had more cracks of Bio Seaweed Gel but luckily nothing like that with LART gel polishes. I think the added strength was the reason.
I must say I was very surprised how much of a difference there was between those two brands. I'm definitely liking LART hybrid gel polishes more and I'm not saying that just because I'm selling them. They were better, hands down! I think I'll have to get a selection of LART gel polishes for myself for when I'll want a change from LART Dipping system manicures. LART gel polishes are great for nail art and that's what I'm really missing - creating little pieces of art, my art therapy!
I tried to find where to buy Bio Seaweed Gel in the UK but I think the distributor is no longer selling them and I wasn't able to find if there's a new one. If you know one, let me know and I'll happily link to them.
LART Hybrid Gel Polishes and the rest of products are available to order at LART Nails UK website. We currently have catalogues you can browse and soon will have products available elsewhere online (but psst, that's a secret for now!).
Hope you've enjoyed this little comparison and let me know if you've heard of LART products before and where ;)