Hello my lovelies!
today I will show you the new China Glaze Crackle Glitters collection. It consists of four shades: Luminious Lavender, Gleam Me Up, Jade-d and Glam-more.
I've tried to fit in as much pictures without overloading the page so you might notice a slightly new format of some pictures. Hope you'll like it. 
China Glaze says: "Sparkle all summer long with China Glaze®'s new Crackle Glitters collection.  Once again taking crackle technology to the next level, this third-generation polish pairs the edgy innovation of crackling nail lacquer with glamorous glitters. Create glamorously different looks with just one sweep of China Glaze® Crackle Glitters.  Layer over different base colors to create bold styles.  Use a lighter coat to create a fine crackle, a thicker coat for a deep shatter effect.  Brush sideways or on an angle to create different looks.  As versatile and edgy as China Glaze®'s biggest celebrity fans (Lady Gaga, Rihanna, Nicole Ritchie and Kelly Osbourne, to name a few), China Glaze® Crackle Glitters add a spark(le) to one of the hottest nail art trends!"
I'm not a huge fan of crackles but these look very nice. I'm wearing the Jade-d over black right now and I really like it! It looks much better than crackle creme shades, the glitters create sparkly and interesting look. For you who are not entirely fed up with crackle polishes, I think you'll like these:
Gleam Me Up - bright blue/turquoise coloured glitter. CHG describes the shade as bright sky blue which describes it well too. I like the turquoise shade as it is a nice contrast to black. The glitter is fine and it applied very nicely. One coat of Seche Vite topcoat.
Luminious Lavender - lavender purple glitter. Lovely cool-toned lavender shade. I've applied a bit thicker coat so the cracks are big and thick. It's up to you how thick coat you'll apply so you can achieve thinner cracks if you want. One coat of Seche Vite topcoat.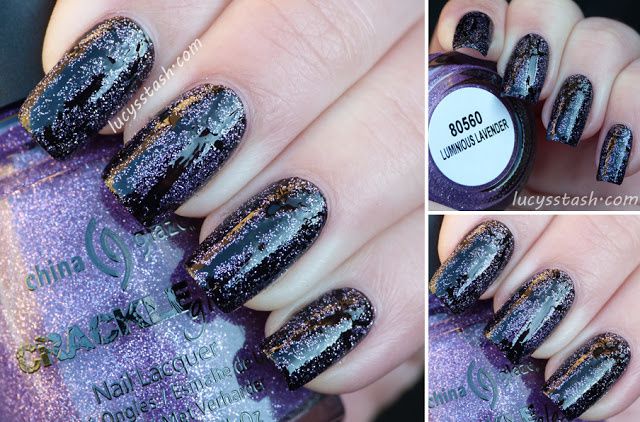 Jade-d - spring green glitter. I wouldn't really call this shade jade, it is bright spring green, really lovely for this time of year. It applied nicely as the other shades and I'm still wearing it and I'm not experiencing any chipping. One coat of Seche Vite topcoat.
Glam-More - bright fuchsia/magenta glitter. This one is my favourite, it is so vibrant shade! It crackles nicely but I've applied a bit thicker coats because I wanted lots of the glitter on the nails :) That caused bigger cracks. Two coats of Seche Vite topcoat.
Overall, all the polishes have surprisingly very good formula for crackles. They don't dry as fast as the creme/metallic crackle shades which makes it much easier to work with. I usually have problem with too fast drying when the polish starts to crackle right after application which makes it really hard for me to go back and even the layers.
Also you'll need two coats of topcoat. If you have a look at the Glam-more shade where I've used two coats of Seche Vite and compare it to Jade-d with one coat you'll notice the difference. The first coat of topcoat gets sucked into the glitter and in between the cracks so if you want shiny even layer, use two coats of thicker topcoat.
What do you think of these shades? Yay or Nay?
*These were provided for review by the company