*PR samples
Hello lovelies,
Did somebody say awesome glitterbombs? Oh yes! I've got here four gorgeous Femme Fatale polishes. Femme Fatale is an indie Australian brand that produces not only nail polishes but also other beauty products. You can check out previous review of four polishes here.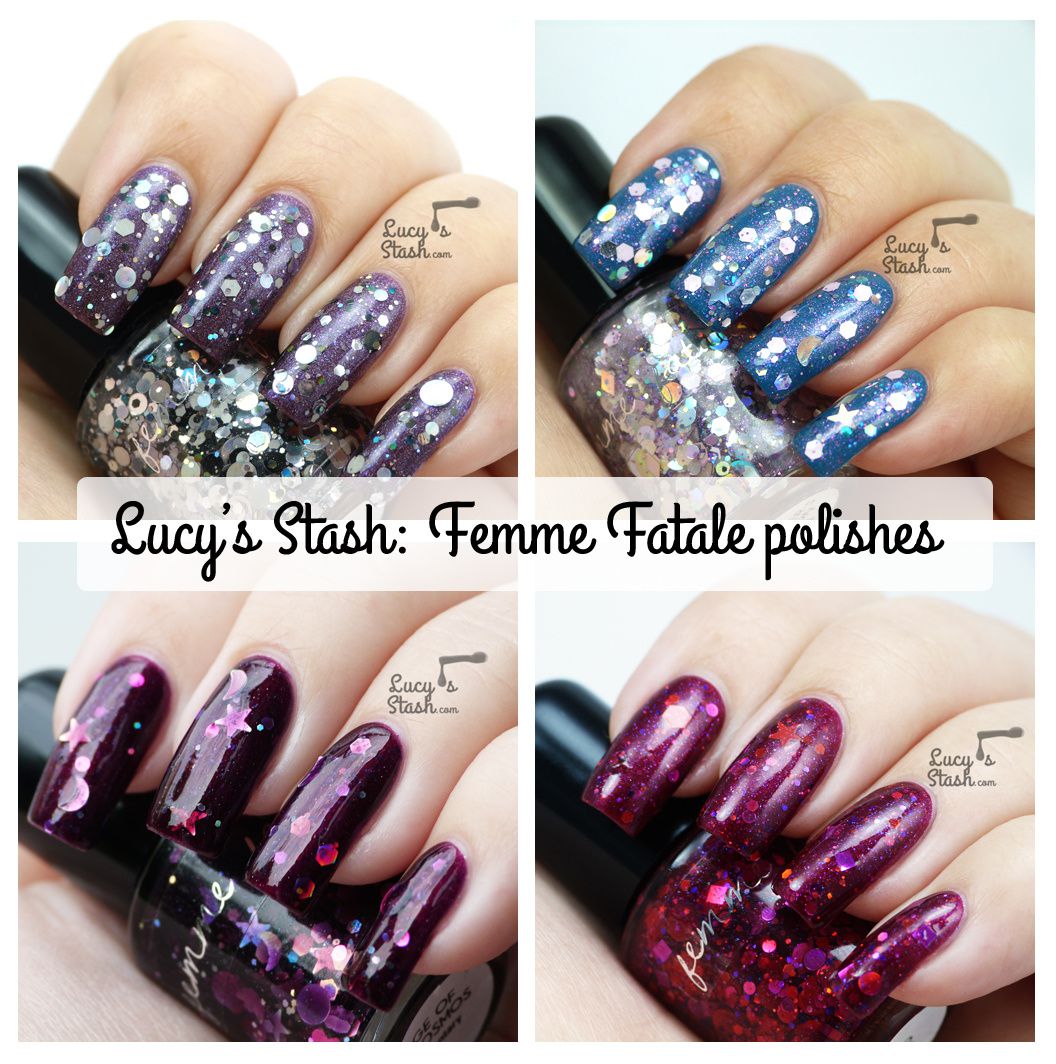 Dreamer's Potion - mix of silver, holographic and pink glitter in a clear shimmery base. The glitters are different shapes and sizes and the base has cute pink flecks in it. I have applied one coat over CND Blue Rapture. The amount of glitter in one coat is good and it dries fast but uneven so I needed a coat of topcoat. I would recommend to try this polish over some soft pink for a romantic girly combo.

Mercury Rain - black, silver holo, teal and grey glitter in various shapes and sizes and in a clear base. I've applied one coat over Cadillacquer Say My Name and it was a nice amount of glitter but not very opaque. The formula was quite thick yet still ok to manage. Some of the bigger glitters tend to stick out but thick topcoat solves this problem.

Edge Of The Cosmos - black cherry jelly base with silver holographic and hot pink glitter and tiny holographic particles. What can I say - this polish is absolutely stunning! I have applied two coats over Femme Fatale Ruby Hare but if I would apply it over black it would look much darker. It applied well and I needed a topcoat as well.

Wild Magic - raspberry jelly packed with red, magenta and blue glitter. Wild Magic is another stunning polish. It is better for layering as it's not very opaque. I've applied it over OPI Cute Little Vixen and the shades matched beautifully. it applied easily and dried fast and glossy but I needed a topcoat to smooth out the surface.
How beautiful are these polishes? The more shade I try the more I'm falling in love with Femme Fatale. I have more coming so stay tuned!
Femme Fatale is available at their website and at their various international stocklists.
*PR sample