*PR sample
Hello lovelies,
I was trying out Colors by Llarowe polishes for the first time. Today I will show you six shades from the Colors by Llarowe line which has been developed by Leah Ann LaRowe, the woman behind the Llarowe e-shop where we all go to to purchase indie polishes :)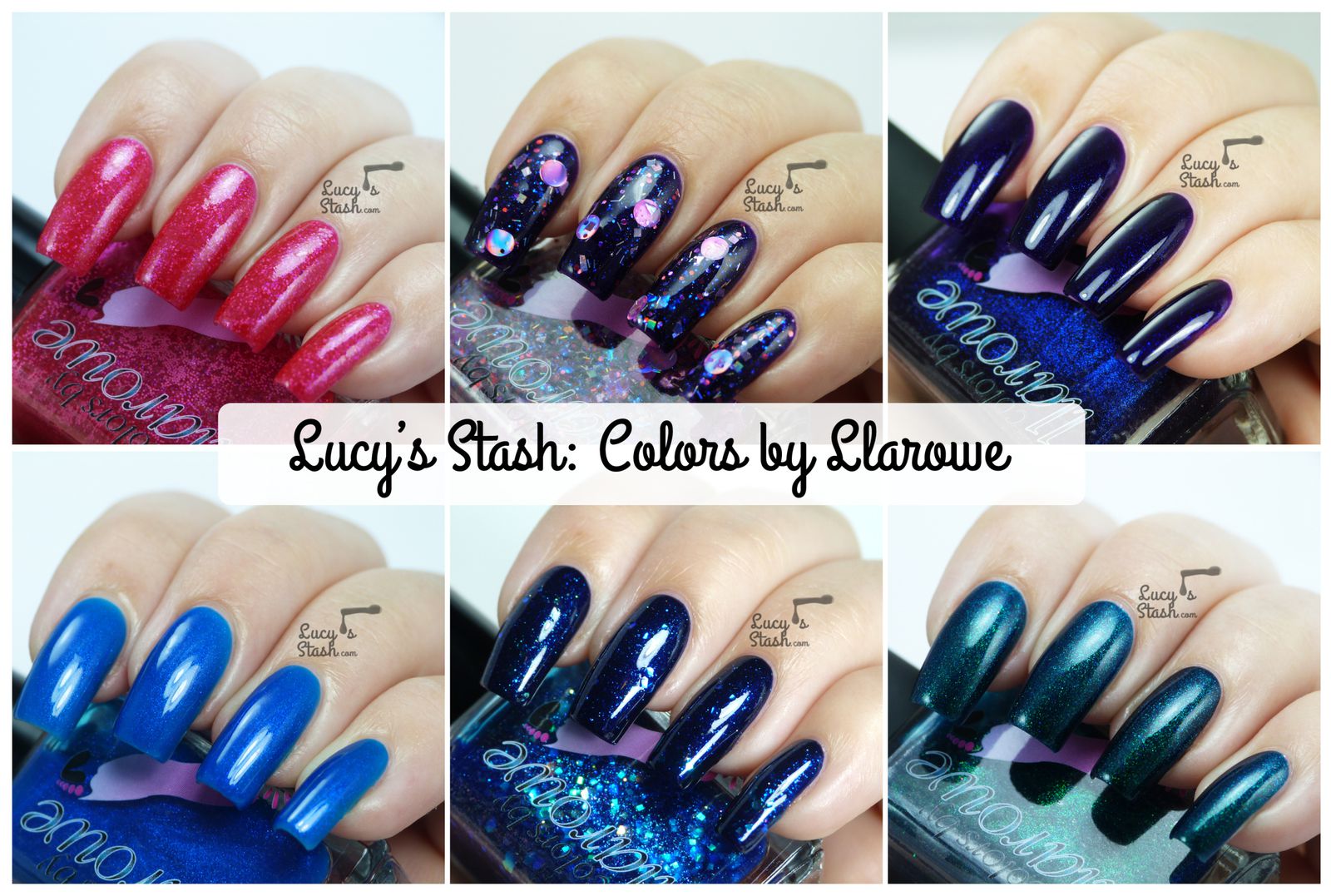 Behead The Drama Queen - blue and green micro-glitter particles in a teal jelly base. Beautiful and nicely pigmented jelly that will blow you away! I've expected a low pigmentation so I have applied black base on the ring finger and I can hardly tell! So basically I have applied two thicker coats on all nails except ring finger where I've applied one coat over black. Not much colour difference,huh? It applied well but the drying time was longer due to the thicker coats.
Montana Sky - blue jelly with opalescent glitter and fine glass flecks. This is a glitter topper as it's not really pigmented enough to be worn by itself. I have applied one coat of Montana Sky over China Glaze Up All Night. Any dark colour will show the beautiful opalescent glitter. It applied well and dried fast. I needed a coat of topcoat to smooth out the surface.
Mustang Sally - hot pink jelly base with matte pink glitter and blue and pink shimmer. The matte pink glitter looks so unusual in the pink jelly, it's a brilliant combination! It applied easily and two thicker coats provided good coverage. The polish dried quite fast but gritty so thick topcoat is needed to smooth out the surface.

Paradise Found - medium blue jelly with blue shimmer. This shade looks very juicy when on nails :) The polish is very, very sheer and I have applied four coats to build up the coverage you see in the pictures. It would be possible to layer it over blue to get good coverage too.

Purple Rain - dark purple jelly with blue shimmer. The overall colour is not as blue as in the pictures. Purple Rain is quite sheer so it might be better to layer it over a similar purple. I didn't do that and I ended up having to apply three coats to get the coverage in the pictures. The formula was a bit runny and nicely glossy.

I Need A Holo-Day - magenta and silver holo gliter in different sizes and shapes in a clear base. I have layered this glitter topper over Purple Rain which created magical combination. I loved how juicy and glossy the result was! It applied well but I did have to play with the glitter and move it around.

I found some of the polishes to be great, some too sheer, some perfect for layering and some simply stunning. My favourite shades are Behead The Drama Queen and I Need A Holo-Day glitter topper.
You can purchase Colors by Llarowe polishes at the Llarowe website but I'm afraid there are limited quantities available so you'll need to wait for the restock.
Have a lovely day everyone! x