Hello lovelies,
Nicole by OPI came up with another gorgeous collection celebrating TV show Modern Family. I must admit I haven't heard of this show until I first saw a press release for this collection...but then again I'm not American so I hope I can be excused :) Anyway let's get back to the polish beauties...
Collection consists of 14 shades of different shades and finishes, all having names tied to the Modern Family characters.

Hayley Good Lokin'... - small rose pink glitter with bigger pink holo hexagon glitters in a clear base. Glitter has good density, there's quite a lot of it in the bottle but it's easier to layer it rather than apply it by itself. The application was a bit harder as the formula is slightly thicker. I'm wearing just one coat over Am I Making Myself Claire?.
Am I Making Myself Claire? - pale dusty lavender creme. This little beauty has an excellent pigmentation! It is almost one coater but those of you with long nails will be better off with two coats. It applies easily as a butter and dries fast.
My Jay Or The Highway! - dirty taupe creme. It's quite unusual and not very girly colour but I would like it in an Autumn palette. It applied well and dried fast despite runny formula. I needed two coats for full coverage. No topcoat in the pictures.
Stand By Your Manny - medium blue with silver shimmer. I've had quite a trouble with this polish. The formula is runny and sheer and drying time is longer - average. I needed three coats for full coverage.
Alex By The Books - pale mint creme. Such a pretty shade! Not too pastel yet not too dark. The formula on this one wasn't flawless either - it creates patches when going over with the brush more than once. I needed two thicker coats for full coverage. It dries glossy and in an average time.
A Like-Haley Story - bright neon pink with magenta shimmer. I'm so angry at my camera that it doesn't show the true colour. In real life the shade is bright, rich and neon, absolutely perfect for summer. It has great well-pigmented formula that applies easily. The shimmer also shows nicely on the nail.
A Phil's Paradise - foil greyish olive green. This shade is very similar to OPI Number One Nemesis, they are almost dupes. It applies well and dries fast and is slightly streaky. I'm wearing two regular coats. 
Back In My Gloria Days... - red based purple with shimmery particles. Oh how gorgeous this purple is! It's so much nicer in real life! I'm wearing two coats but I feel three would be better for my long nails. It applied easily and dried fast and I'm wearing topcoat.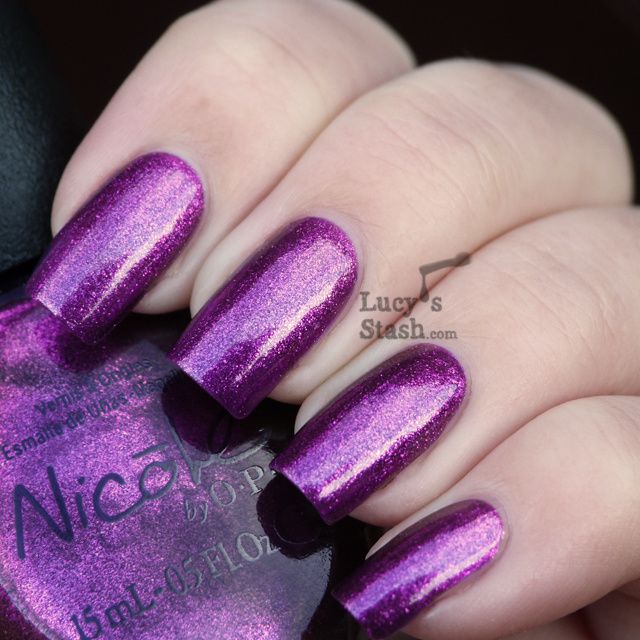 Basking In Gloria - rich red berry shimmer with bigger sparkle particles. My second favourite, this is a real stunner! I just love this colour, in fact I want a car in this exact colour! :D I needed two thicker coats for full coverage. It applied well but the formula was little bit runny. The drying time was good.
Candid Cameron - green-blue duochrome metallic. Another beautiful shade reminding me of mermaid-like colours. The duochrome effect is not that strong on the nails but it does show a little in certain lighting. It has an excellent pigmentation, I'm wearing two coats that dried fast. It applied well however the finish is streaky so I had to pay attention to brushstrokes.
I Do De-Claire! - medium/light pink with pearl finish. I really don't like this polish. It's not the colour it's the finish. It's very streaky which shows every small imperfection. It applied well and it has good pigmentation as I needed just two thicker coats.  
She's Lily Something - pink and blue glass flecks in a clear base with pink star glitter. This is a glitter topcoat that is meant to be layered so I have applied it over I Do De-Claire! There is plenty of the glass flecks but not enough of the star glitter. I had to fish them out and place them on the nail carefully. They are quite big so sometimes they stick out. It applied well. 
What's The Mitch-uation? - dark indigo metallic shimmer. It looks very similar to OPI Into the Night from the Amazing Spiderman collection but it has slightly better formula. It applied easily but the finish is streaky. As with the OPI polish, this one also has lower pigmentation and I needed three coats for full coverage. Two coates weren't quite enough but could do if you have short nails. The polish dries slower.
What a collection! I have my favourites in there, I love especially the dark rich shades. I really like that there is a wide range of finishes but I would prefer if he formulas would be consistently good. I'm sure everybody will find at least one shade they'll like since there's 14 of them in this collection. Enough said, I'm happy I could try these polishes, some of them are absolutely gorgeous and you can look forward to nail art posts with them!
*These were provided for a review