*PR sample
Hello lovelies,
I don't think I have to introduce Zoya Zenith collection very much, we've all see the gorgeous colours already. It's definitely not full of traditional Christmas colours but eh - that would be boring, right? All shades nicely match together...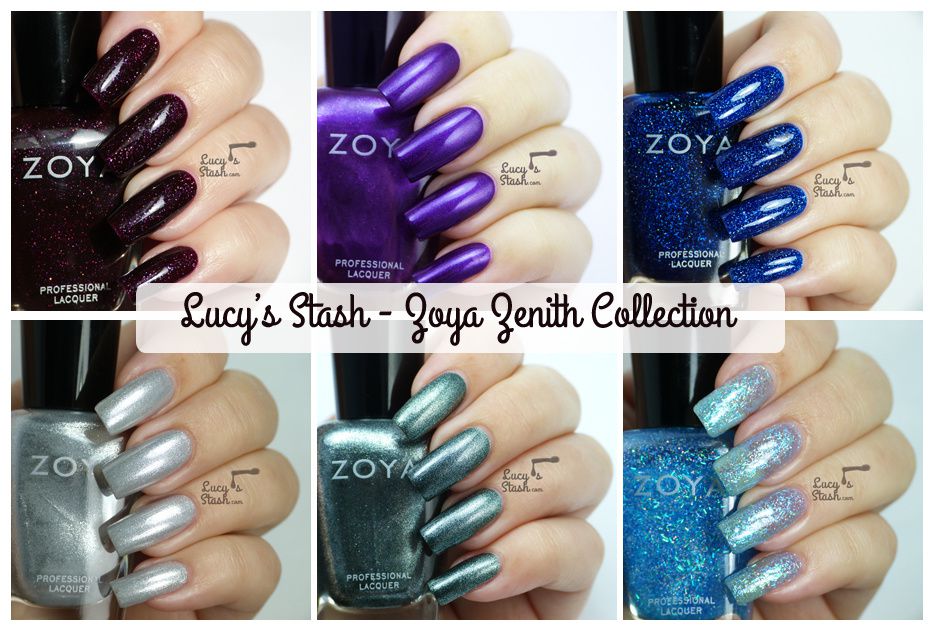 Payton - red-purple jelly base with chunky holographic glitter. I'm starting with my favourite shade, this deep reddish purple is the perfect vampy colour for this year's winter. The bigger holographic particles make it come alive in the sun. It applied easily and was fully opaque in two thicker coats. It dries quite fast and glossy but sometimes the holo particles create uneven finish so I needed topcoat.

Belinda - grape purple shimmer. It's a very pretty purple that I enjoyed wearing. It's nicely vivid and very pigmented. I've applied two coats but it was almost one coater. The application was easy and the final finish wasn't streaky despite my expectations.

Dream - dark blue jelly base with chunky holographic glitter. Awesome colour, awesome name, awesome formula. I know I'm being very positive but I do love it that much. The colour is very pretty dark blue and the pigmentation is ok too. I thought the base will be sheer but it was fully opaque in two thicker coats. Same as Payton it dried quite fast and glossy but a bit gritty from place to place so I needed topcoat.

Seraphina - white silver metallic shade. This is the only shade that I consider festive; it's a very pretty light silver reminding me of Xmas ornaments. The formula was easy to apply and two coats were enough for full coverage. It dried fast but slightly gritty so topcoat was necessary.

Cassedy - pewter metallic shade. Not my favourite colour but all in all fits the collection nicely. It is not purely grey-ish shade but it has hint of green undertones. I needed two regular coats for full coverage as it's well pigmented. It went on well but needed a tad longer time to dry.

Mosheen - Astro Ice Blue Topper full of iridescent glitter in a light blue jelly base. I expect glitter toppers to be quite versatile but this one isn't so much. It is too sheer to be worn by itself and because of the tinted base it can be worn mainly over blues, purples or black. I've applied three thick coats of Mosheen just to demonstrate how sheer it is. I've also applied it over Dream and the combination of the two is very pretty. Mosheen still needs topcoat as the glitter doesn't dry completely smooth.
As always, all the polishes had good and fast drying formula and I was very happy with them. My favourites were Payton and Dream but Seraphina and Mosheen are very beautiful too.
You can get Zoya polishes at Zoya.com if you live in US. In UK you can get them at Amazon, Amarya or on Ebay. But I'm sure there are more places online that sell Zoya.
*PR samples