Hello lovelies,
I have the last guest for you today and it's from Emiline aka Nail Polish Society! I' so happy to welcome Emiline here today, she's a fab nail bloger and the nail art she created for this post is so beautiful. I'm currently participating in her ABC nail art challenge which I hope to resume soon :) Let's have a look at her post:
Hi everyone! I'm Emiline from the blog Nail Polish Society and I am beyond excited and honored to be a guest on the amazing Lucy's Stash! I have been a huge fan of this blog for years and am still constantly inspired by Lucie's creativity. Not only is she uber talented, but is very humble and sweet too, which is equally inspiring in my opinion.

For my post I've chosen to do some nail art featuring Lucie's collaborative stamping plate with Bundle Monster (BM-XL209). I've had my eye on this plate since it came out but it always seemed to be sold out when I went to buy it. I am so glad I finally have it because the images are gorgeous! I recently did a similar look with the feather image from this plate and I adore it. This negative space image though is probably my favorite!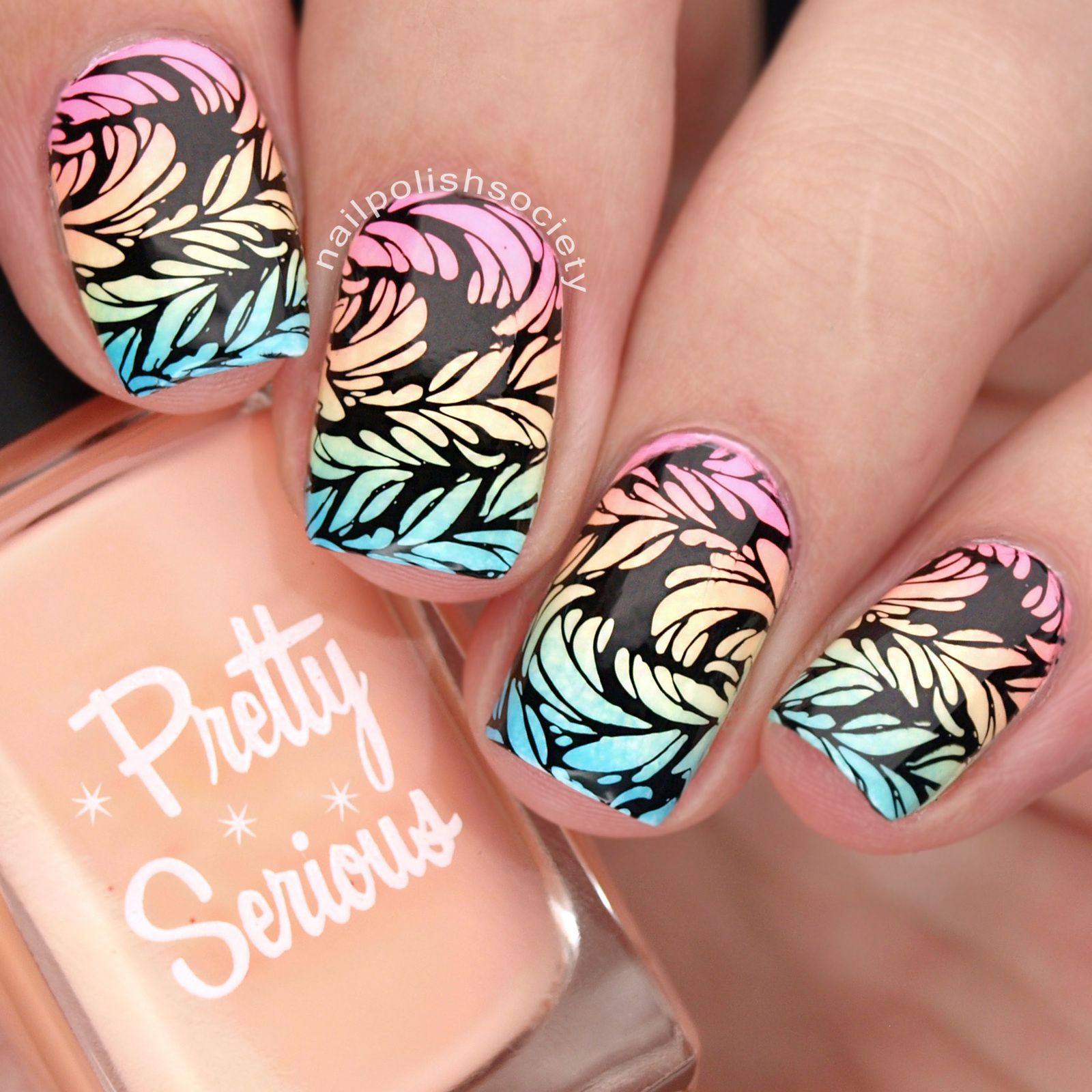 For this look I started with a base of white polish. Then with a makeup sponge I dabbed on four of the shades from the Pretty Serious Pastel Pet Names Collection (Fluffykins, Peachie Poo, Little Duckling, Doodle Bug) to create my gradient. I let it dry for a little while, then stamped on the image using Rica Blackout and a clear stamper. I finished it all off with a top coat applied generously to avoid smearing all that black polish.

Well there you have it, I hope you enjoy what I've done! Thank you so much for having me Lucie. And thank you all for reading. If you don't have this stamping plate yet, you seriously need it!
Thank you Emiline for this ah-mazing post and nail art and thank you for using my collaboration stamping plate ;) You can follow Emiline's work on her blog Nail Polish Society, Facebook and Instagram.
Hope you've enjoyed today's post and from now on I will be posting again! Heva a lovely day, Lucie x