Hi everyone,
As you know, I've only just started to write blog posts again after what...2,5-3 years? In that time I've managed to have a baby boy who is now a two year old toddler(!) which is really the main reason I haven't had time for nails and blogging.
Something also happened with my chemistry of nails and nail polish just doesn't last on me at all these days. I used to be able to get 5-7 days wear, now I'm lucky if I don't get chipping within the first 24 hours. It's mental!
That's why I started to explore nail dipping systems. They last 2-4 weeks and give the nails strength and support similar to acrylic overlay, and can quite easily be done at home as well.
Out of all the nail dipping systems out there, there is only one that I fell in love with and one that offers a one bottle for all steps instead of multiple bottles of product and IS NOT ACRYLIC POWDER!
That system is LART Supreme Mineral Dipping System.
Let's put a disclaimer right here, I liked LART products so much that together with my biz partners we've decided to bring LART products to the UK. So I am now part of the distribution team for LART UK and have also become an Educator for the UK. I purchase my LART products, I don't get them for free apart from this starter kit which was part of my training and I could keep it.
Here's what the LART Supreme products look like - overall, you only need 4 products to create dipping manicure with the Supreme system - a lot less products than with conventional acrylic dip systems!
About LART
LART is an international brand that originates from Poland. They have created two product lines of Mineral Dipping Systems - Pro and Supreme. They also offer a wide range of Hybrid gel polish which I've already shown here.
LART Pro is ideal for salon nail professionals and it offers the option of dipping manicure, french dipping manicure and extensions to any length. Pro range is only available to nail professionals that complete LART training course.
LART Supreme is an innovation to the system with only one bottle of gel for all the steps and with an in-built activator so no need for a bottle of hardening solution like with other systems. It's great for salon nail professionals, mobile nail stylists but also available for at-home users thanks to the ease of use.
LART offers this convenient starter kit which offers all the products you'll need to create Supreme Mineral Dipping manicure. There are also two colours to start you off.
The Supreme Starter Kit comes in a compact cosmetic bag and it looks like this: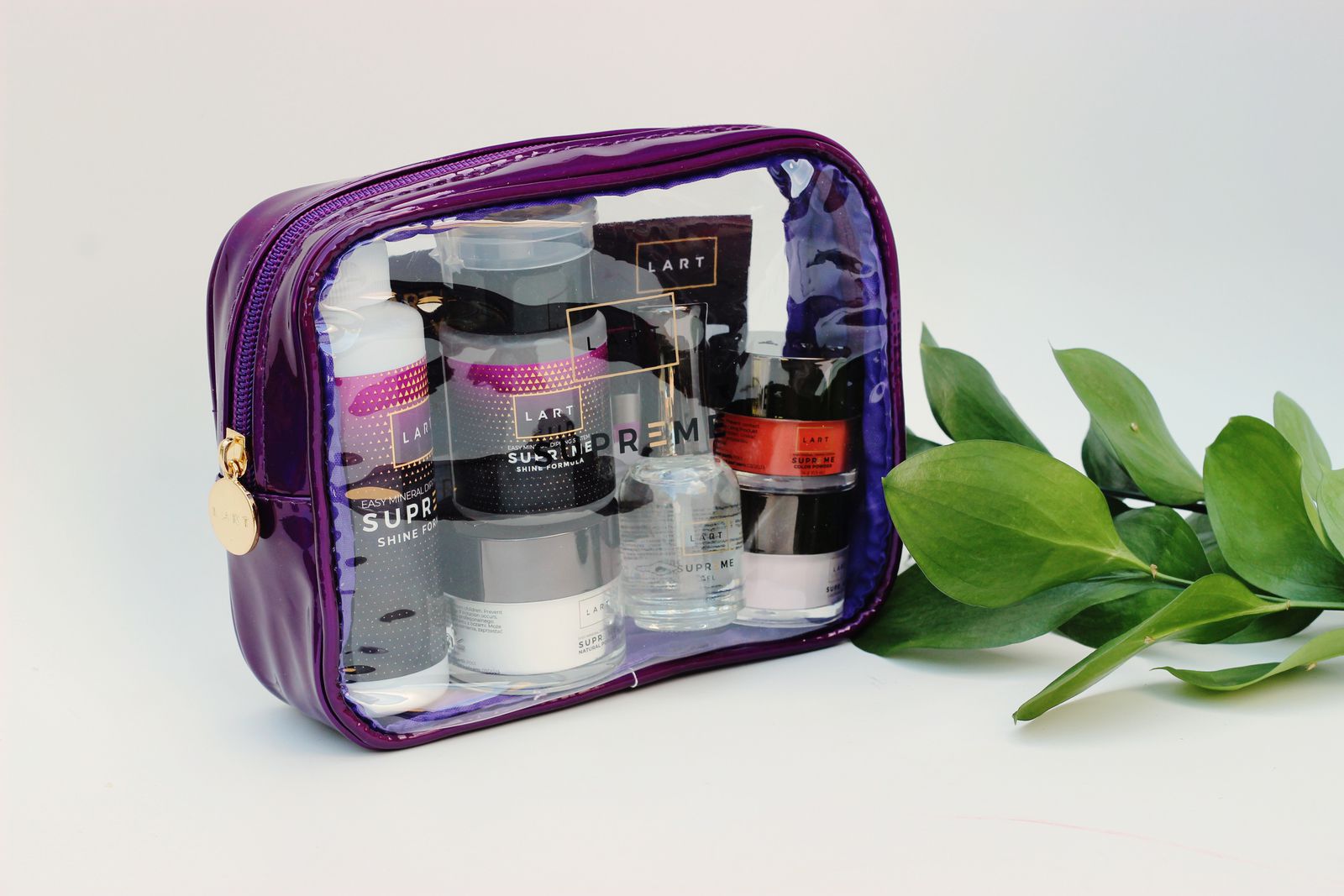 The Supreme Starter Kit contains:
1x LART Gel Supreme (18 ml)
1x LART Shine Formula (120 ml)
1x LART Supreme Natural powder (28 g)
2x LART Supreme coloured powder (14g)
1x Pump dispenser for LART Supreme Shine Formula (60 ml)
1x Modern LART SUPREME washable bag
The main benefits of LART Supreme Mineral Dipping System:
👍 A professional quality dipping manicure that lasts for several weeks without chipping, flaking or colour fading
👍 LART powders contain benzoyl peroxide, which is an antiseptic and inhibits bacterial growth - it is safe to use the products on multiple clients
👍 Ultrafast drying thanks to unique Integrated Safe Color System (ISCS) powder technology
👍 Powders are mineral-based, NOT acrylic-based
👍 LART dipping systems don't cause allergies as proven by dermatological safety certificates (unless a person is in a rare group of people allergic to particular (very often unknown) ingredient)
👍 Perfect for mobile nail technicians who need compact but professional system but also fantastic for salons and at-home consumer use
👍 Safe application for pregnant women and diabetics
👍 No need for UV/LED lights
👍 LART products are vegan and cruelty-free
👍 Can be used with difficult nail plate or mechanically damaged nails and thanks to vitamin E and calcium content, it evens the irregularities, enhances and rebuilds damaged nail plate, and ensures faster growth
👍 It's fast, safe and healthier than traditional acrylic powder dipping systems
👍 Manicure lasts up to 4 weeks
Check out this handy LART Supreme tutorial which shows how the system is used and how to create a manicure with it:
In short, this is how to use the Supreme dipping system:
Clean and prep the nails and cuticle area - DO NOT use cuticle softener!
Gently etch the nail plate with 240 grit file (you can use rougher ones but it might be too rough on the nails)
Apply a thin layer of Supreme Gel onto 1/3 of the nail (in a fan shape widening from middle of the nail to the free edge) and then dip it in Supreme Natural Powder. Tap off excess powder and brush the rest off with a soft brush.
Apply another thin layer of Supreme Gel on 3/4 of the nail (again from under the cuticle area and widening towards the free edge) and then dip it in Supreme Natural Powder. Tap off excess powder and brush the rest off with a soft brush. You can file and buff lightly if your structure is too bumpy. I like to file and buff after colour only.
If you're building long nails, you'll need to do two more coats to build the proper structure (or you can use two coats altogether of Infinity powder from Pro range which has been specifically developed for doing extensions). If your nails are short, skip step 5. and move to step 6.
Apply Supreme Gel on the whole nail - as close to the cuticle you can get without touching it or flooding it - then slowly dip the nail into the colour powder. Tap off excess powder and brush the rest off with a soft brush.
Repeat step 6. for second coat of colour
Gently file nails with 180 grit file and buff to completely smooth the surface. Be careful not to over-file! Wash hands with warm water (no soap!) and carefully dry the nails with a lint-free pad. Kitchen paper towel works great too.
Apply Supreme Shine Formula - wipe each nail with moistened lint-free pad
Apply a very thin layer of Supreme Gel on the whole nail in quick brush strokes and cap the free edge. It doesn't have to be perfect, the second layer will take care of imperfections. Avoid touching the cuticle
Apply a thin second layer of Supreme Gel on the whole nail. This time you can take a bit more time and make sure your application is precise. Let the nails dry for few minutes and apply cuticle oil.
TIPS:
Wipe your Supreme Gel brush on a dust free wipe or paper towel to prevent any powder entering the jar
Get yourself a bottle of LART Brush Cleaner to keep your brush in top condition
Removal tip - put a hot water into a small bowl (as hot as you can stand), put a freezer bag over the bowl (make sure it's acetone resistant by testing it beforehand), place a cotton pad into the bag, pour in a small amount of acetone and add few drops of LART Orange & Cinnamon cuticle oil for extra nourishment. Soak your manicure for up to 10 minutes with occasionally rubbing your nails on the cotton pads. I do this and my LART manicure comes off completely in 10 minutes!
Today I'll show you a manicure I've done on myself using LART Supreme Mineral Dipping System so that you can see the final result that can be achieved. I've used LART Supreme colour no. 13 (or LS 13) which is a rich red shade. Then I painted leopard print with acrylic paint and thin nail art brush.
One interesting thing about the LART products - the colour powders can be interchanged with each system so you can have colours from Pro and Supreme line and can use them with both systems as well. I find that great because I can pick and choose the colours I like best from both systems. If you use a colour powder from Pro range, you will need to use the Quick Dry liquid since Pro colour powders don't have the in-built activator. But that's the only caveat I know of.
More pictures of my nails lol..
Availability:
You can order LART Supreme products at LART UK website
LART Supreme Starter Kit costs £109.94 through LART UK website or email uk@lartnails.eu
Don't be scared by the price though, 4-5 manicures and you've got your monies worth as opposed to having nails done at a salon. And you'll definitely be able to do many, many more manicures with this kit!
As you can see, I can't get enough of this superb and unique dipping system! I've been wearing it nearly constantly for the last 9 months and it allowed me to grow my nails to a longer length and protects them from breaking.
Not only is it healthier and kinder to nails than acrylic dip systems, I'm not experiencing any 'dip flu' from the products either!
Tell me, have you tried dipping system yet? What's your experience? What's holding you back from trying it?
Have a fantastic day!