Hello lovelies,
I'm very excited to show you swatches of Shimmer Polishes! I've previously reviewed gorgeous red shade Marylin here and here and today I'll show you some more.
Airriann - mix of beige, black, blue, green, rose pink, purple and red glitter. The majority of the glitter is beige as you can see, it looked like crushed gems on my nails. The glitter in this polish is not as dense so it's more suitable for layering but also lovely for gradients. I have applied three thin coats and it was enough for good coverage. Polish dried fast and I wore it for three days and had no chipping.
Cristina - mix of teal, light blue, red and gold glitter in a clear base. All glitters in this polish are the same size and the concentration of them is quite high. It looks like two coats would ensure a full coverage. I have applied one coat of Cristina over black (A England Camelot) and the result is stunning!
Fanny - purple, orange, pink and red glitter in red-based purple jelly. The glitter density is good as this is two thicker coats and it's almost fully opaque. But Fanny is also good for layering. The drying time was slower because of the two thick coats but it also dried slightly gritty so I have applied fast-drying topcoat.
 
Kelly - mix of green and gold glitter with rainbow effect in a clear base. This is a great polish for St. Patrick's Day as it represents shamrock green and pot of gold in my eyes :) I have applied two thick coats again but I think I would be happier with three coats or one coat layered over different polish. The formula was slightly thicker but it still applied quite well. Topcoat applied.
Leslie - mix of purple, blue, teal, silver and orange glitter in a clear base. It's a lovely mix leaning heavily to purple and blue shades. I have applied one coat of Leslie over Essence Ballerina's Charm. As you can see, the glitter is quite dense so it could be worn by itself as well. It applied easily and didn't dry overly gritty. I have applied topcoat.
Trisha - mix of burnt orange, blue, gold and silver glitter in slightly orange tinted base. Trisha polish has a high glitter density. I have applied two thicker coats which were quite enough for a good coverage. It dries quite fast and doesn't dry gritty. Despite that I still applied topcoat.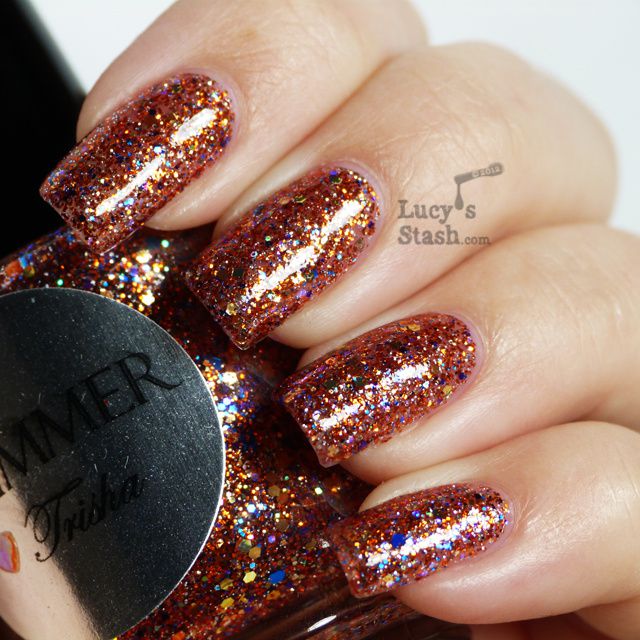 I've got many more gorgeous Shimmer polishes to come so keep your eyes peeled! I really like them and I plan to do some gradients with them as they are perfect for it! They all have really good formula and they apply well and when one layer applied they dry really fast too.
If you'd like to check out all the Shimmer polishes or purchase them, visit Shimmer Polish Etsy store.
*These were provided for a review