*PR sample
Hello lovelies,
Today I'm very excited to show you swatches of four Femme Fatale polishes. Femme Fatale is an indie Australian brand that produces not only nail polishes but also other beauty products. I've never tried Femme Fatale polishes before so I was very happy when I was asked to review some. I got mini bottles due to shipping restrictions but that didn't bother me as the polishes inside are the same anyway. Let's have a look at the four shades I'm reviewing today...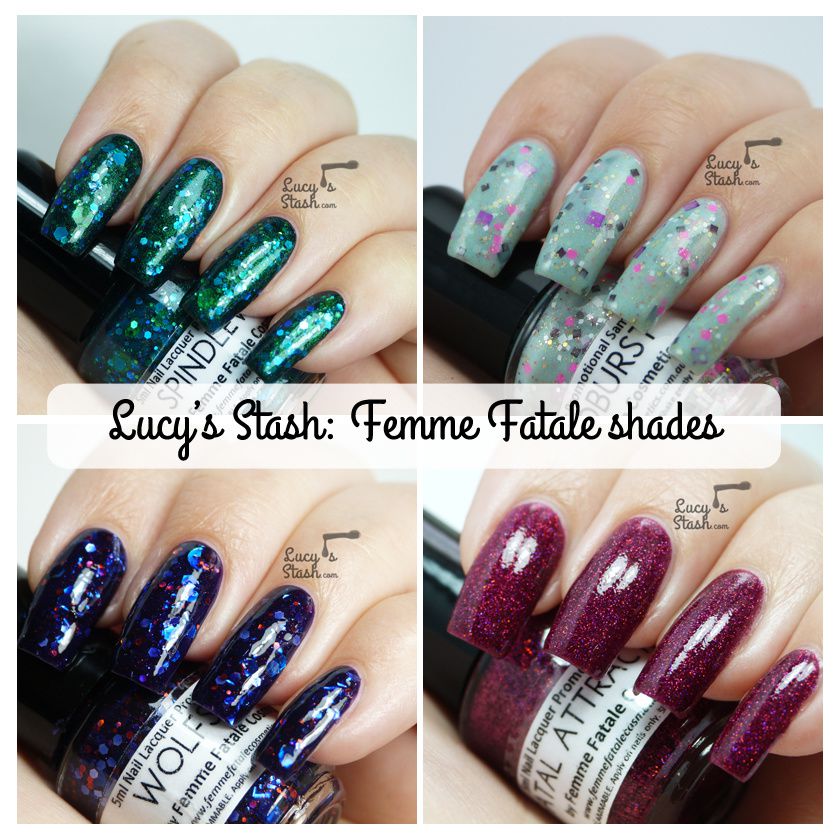 Fatal Attraction - deep magenta jelly base packed with scattered holographic glitter. I've got very mixed feelings about this polish - I love the colour and the holo glitter but I'm not very happy about its grittiness and lower pigmentation. I have applied two thick coats and one layer of Seche Vite topcoat. As you can see the surface is still not smooth so I would need second coat of topcoat which I just don't like to do. But the polish itself looks so good!
Wolfsbane - A deep purple base filled with navy hexes and shreds, flecks of periwinkle and soft blue cresents, and highlighted by a sparse scattering and flashes of red. I really like this Femme Fatale's description of the shade as it is spot on.
I have applied one coat of Wolfsbane over OPI Vant To Bite My Neck? I like that the base colour can change the look of the polish. Whether you want it over blue, black or warm purple, the polish will always look different. I didn't apply it by itself because I would need two thicker or three coats. The application was slightly difficult because the polish is packed with glitter so I had to play around a bit.
Cloudburst - grey-ish mint green base with fine gold shimmer and neon pink, purple, black, white and gold holo glitter. Wow, I love this polish so much! It's very pretty, subtle and unique. I'm wearing two thicker coats. It applied well and dried quite fast but gritty. I've had to use thicker topcoat to smooth out the surface.
Spindleweb - dark blue-teal based polish with green shimmer, various hexes in blues, teals, greens, iridescence and holo. Quite a combination! I have layer one coat of Spindlewebs over black (A England Camelot) which brought out the strong green shimmer beautifully. If layered over different colour the polish changes slightly. It applied well and dried fast but gritty. I've applied one coat of Seche Vite.
So what do you think guys? Any particular shade that is a must-have for you? My favourite out of these four is Cloudburst but they all look gorgeous.
Femme Fatale is available at their website and at their various international stocklists.
*PR sample