*PR samples
Hello lovelies,
The kind people from Dance Legend have sent me some polishes to review and since I have more polishes to show you than there are days in the year I have decided to do a big Dance Legend swatch post! Hold onto your hats, there are some gorgeous polishes coming!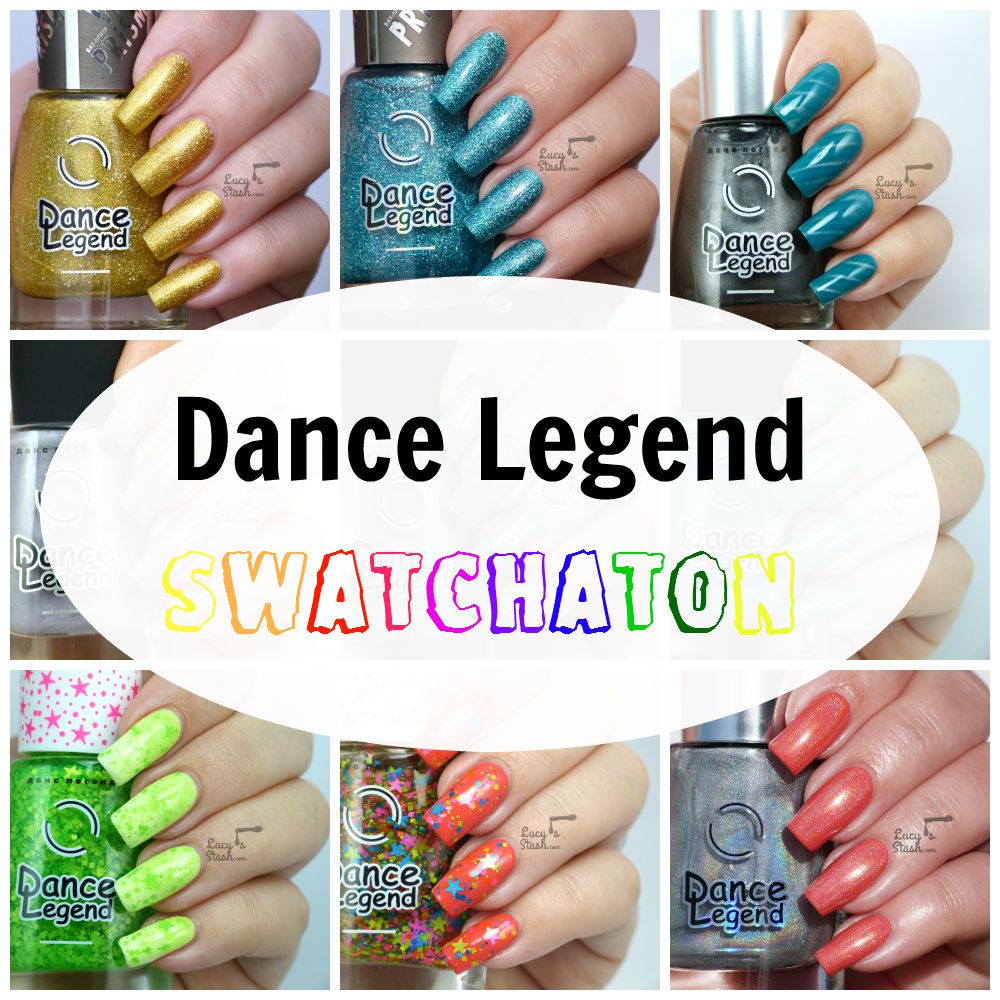 Golden Cobra - gold chunky holographic shade. Golden Cobra is a polish from the WOW Prism collection which has strong scattered holographic effect. The particles are quite big which makes it very different from linear holo polishes. It had good to apply formula but it was quite sheer. I've applied three thicker coats and no topcoat.
Holy Diver - azure blue chunky holographic shade. Holy Diver is also from the WOW Prism collection and has scattered holographic effect. It has slightly better formula than Golden Cobra with easy application and full coverage in two thicker coats. It dried fast and smooth so I'm not wearing topcoat BUT i stained my nails so double up on base coat.
Cetraria - muted green creme with grey particles. Cetraria is part of Smoky collection where each polish has these grey particles to create smoky effect. When I was swatching this polish the name baffled me because I haven't seen it before but once I googled it I found out it is a kind of lichen. It had good formula that applied easily and evenly without streaks and was opaque in two thicker coats. I'm wearing topcoat in the pictures as well.
Moorland - light lavender creme with grey particles. Moorland is another shade from the Smoky collection and it has kind of an eerie feel to it. It was easy to apply and was fully opaque in two thicker coats. It also dried fast and smooth but I've applied topcoat in the swatch as well.
Grey Britain - grey creme with dark grey particles. This is the last shade from the Smoky collection I have - how awesome is that name? I absolutely love it, it's so fitting lol! This must be the ultimate smoke effect polish for me. It had the same formula as the previous two shades - easy to apply, opaque in two coats and fast-drying.
Rio 1 - neon glitter bomb topper. Rio collection is a selection of neon glitter toppers and Rio 1 has mix of neon blue, pink and green glitters in different shapes including squares and stars. I'm wearing one coat of Rio 1 over Nicole by OPI The Coral Of The Story. It applied well and dried fast but little gritty so topcoat is necessary.
Rio 2 - neon green glitter in square, hexagon and star shapes in lightly tinted base. I'm wearing one coat of Rio 2 over a lime and white gradient (Nicole by OPI Lay It On The Lime and Zoya Purity). Rio 2 base has a light green tint so it coloured the white part of the gradient into light green. It applied well and I needed a topcoat as well to get smooth finish.
Top Prismatic - linear holographic topcoat. This is meant to be a holographic topper that you can use over any polish and turn it into holographic. It has very strong linear holo effect. It mutes the colour of polish underneath a bit but it also creates a unique combination. I've applied one coat of Top Prismatic over Barry M Carousel. It applies very easily and smoothly and it does not cause streaking. It dried fast and smooth but always use topcoat as well.
Top Magnetic - special magnetic effect topper. When the magnetic polish craze hit you could only have magnetic polish in the shade it was made. With this topper you can give any polish the magnetic effect. I don't know if the trend is completely over but I still wanted to show you there is this neat little product available. I have applied one coat of Top Magnetic over Barry M Cancun. It applied well and once I magnetised the polish with special magnet, it revealed the base polish underneath.