*PR samples
Hello lovelies,
There are so many new collections out right now, it's almost impossible to keep up! I have managed to swatch the newest Models Own collection called Festival which is full of bright neons and one glitter topper. As the name of the collection suggest, this collection will be perfect for festival season AND all the colours glow under UV light!
So let's have a look at the collection (they are brighter in real life, cameras just hate neons!):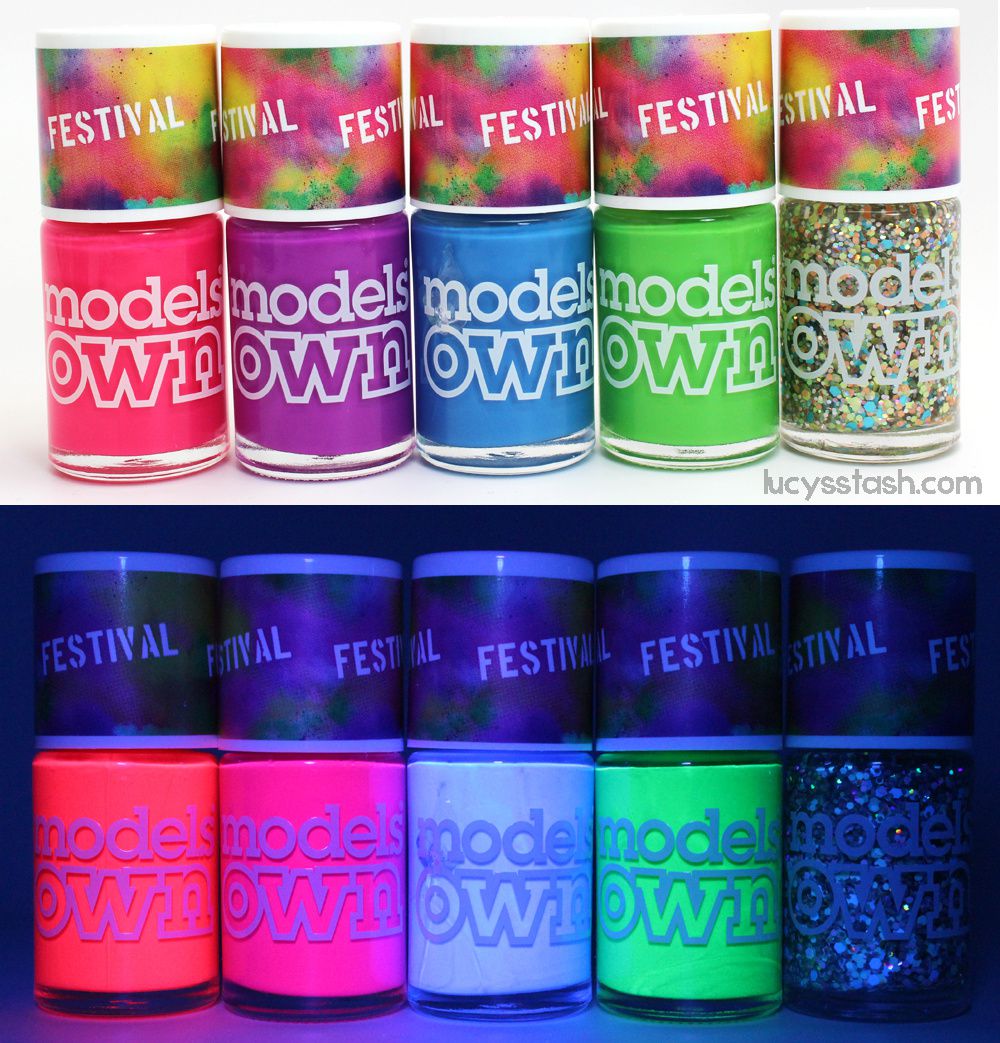 Pink Wellies - hot pink neon creme. I just love the name and now I want a pair of pink Wellies to match this polish! The formula was good to apply and opaque in two coats. The drying time was average without topcoat and the finish was smooth. I'm wearing topcoat in the pictures.
Purple Bandana - bright purple. This is as neon as purple gets and luckily it does glow under UV light nicely. The formula was simply excellent - the pigmentation was really good so two thin coats were fully opaque. It applied very nicely and dried smooth. As an experiment I've applied topcoat to only my index and middle finger to show you how much of a difference topcoat makes.
Blue Skies - azure blue going into neon shades. It's a beautiful colour, just like the blue sky and it glows absolutely insanely under the UV! The formula was good to apply but a bit sheerer than the previous two shades. I still managed to get away with two regular coats easily. The drying time gets longer thicker the coats so this one took a bit to dry but fast drying topcoat always helps.
Green Fields - light neon green. This green is lighter than the usual neon green polishes. This polish was also a bit sheerer yet still opaque in two thicker coats. It applied well and dried nicely smooth.
Colour Explosion - mix of hexagonal glitters in a clear base. I can see pastel shades like peach, blue and chartreuse and silver holographic glitter. I don't have any glitter topper like this in my collection so I consider it quite unique. I've applied just one coat and no topcoat over other Festival collection colours. It dried fast but a little gritty so a final coat of topcoat is a must if you want a nice smooth finish.
Besides nail polishes, the Festival collection includes other make-up items like lip glosses, lipsticks, coloured hairsprays and gold & silver face paints! The polishes came out really good, especially because of the great formula. Neons can be a real pain to apply but these were a joy and I didn't even need a white base to get vibrant colour. All polishes have regular Models Own brushes, not the special flat ones. The camera dulled the colours a bit but I like them nevertheless. There were absolutely no streaks or patching and these truly are really good. If you like the colours you'll be happy with them just as I am.
The Models Own Festival collection is available right now at www.modelsownit.com, at Superdrug and in the Bottleshops for £4.99.
Have a lovely day! Lucie x
*PR samples