Hello lovelies,
I love OPI's Holiday collections so I've purchased few bottles and compiled 'My picks' selection of OPI Mariah Carey Collection shades.
"This year's OPI Holiday 2013 Collection is the second collaboration between OPI and the amazing singer and international superstar Mariah Carey. OPI Holiday 2013 Mariah Carey collection features 12 nail lacquers and 6 Liquid Sands, making it for a total of 18 limited edition shades, which is quite an unprecedented number for a holiday nail lacquer collection in our memory."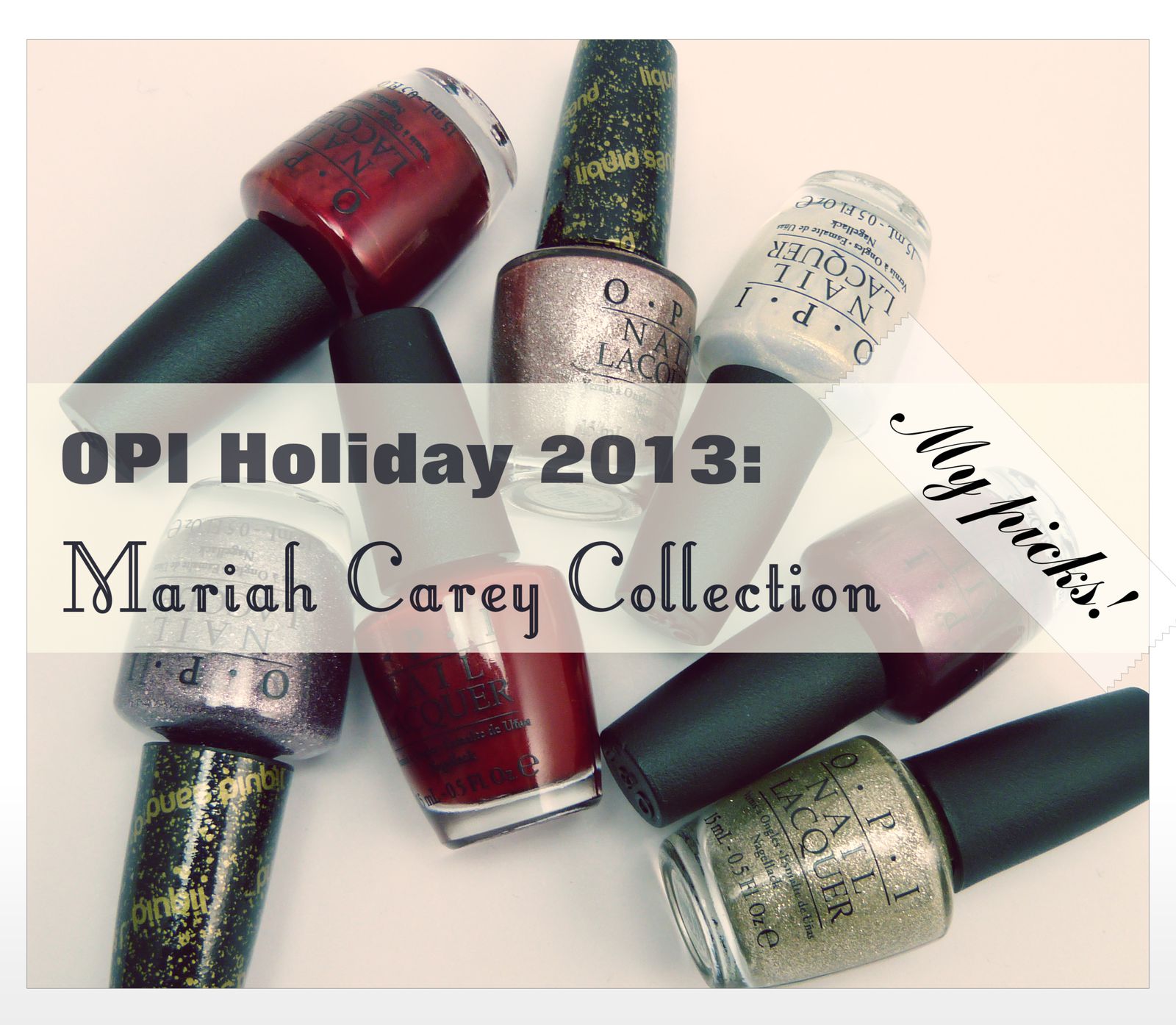 In My Santa Suit - deep red shimmer with a hint of magenta shades. You guys have no idea how much I love red polishes, especially at Christmas time! This one is a beauty that every lover of reds must have. I'm not even going to describe it further just look at the swatches.
The formula was easy to work with and two thin coats provided perfect coverage. The finish was a bit streaky; it dried fast and glossy.

All I Want For Christmas (Is OPI) - chic red creme. Chic indeed! Another beautiful red, this time with a creme finish. It might not be unique but it's stunning and I wouldn't want to miss this shade. It has perfect formula that is opaque in two coats and that applies easily.

Cute Little Vixen - berry purple shimmer. OK I'm running out adjectives here, I just love this colour too :D It also has very good formula that applies well and dries fast. The finish was a bit streaky so I needed to pay attention to the brush strokes. I've added topcoat.

Ski Slope Sweetie - fine gold flake topper. Aaaand we have the first disappointment. I think that when applied alone, Ski Slope Sweetie is quite nice gold shimmer but it is not that great when layered. It is quite visible when the layer is not thick everywhere on the nail and it might look like patches. I think this polish would be better with less gold flakes (not as dense) as it would be more forgiving. I've applied one coat over In My Santa Suit.

My Favorite Ornament - gold/silver glitter in a clear base. I picked this colour up because the glitter particles are not square or round like usually but rather sharp and irregular. However they are very dense so not as good for layering as I've expected. I've applied one coat over Barielle High Marks Purple so you can see how much coverage you'll get in one coat. It dried fast and gritty so thick topcoat or two coats are needed.

Baby Please Come Home Liquid Sand - silver purple textured polish. I really like this Liquid Sand for its colour and also I find the texture getting much better since the first Liquid Sand releases. It is more consistent, the texture is not as sharp and irregular. All I needed were two coats and time to allow it to dry properly. The Liquid Sands seem to need more time to harden than regular nail polishes.

Silent Stars Go By Liquid Sand - beige with hint of pink blush. This is the last Liquid Sand I've picked up. It's very pretty, sparkly, inoffensive and office friendly. It also needed two coats for full coverage and a long time to harden. After few minutes the textured look appears but don't be fooled; allow at least 15 minutes before you touch the polish and possibly even longer before you start doing something. Because you can't apply fast-drying topcoat it is not as 'easy peasy'.

So there you go, those are my personal picks from the OPI Mariah Carey Collection for Holiday 2013. I'm pretty sure that I will buy few more shades in some sale because after seeing swatches on other blogs I fell in love with even more colours!
You can get this collection from Lookfantastic (UK), Amazon UK, Amazon US or any of your usual beauty supply stores and salons.
What colours did you get from this collection? Which ones are your favourite? The classic reds or the new Liquid Sands?