*The nail polish and stud wheel were provided for a review
Hello lovelies,
This post will be a bit longer and picture heavy as it basically features three products. Yay for effectiveness :D
This particular manicure features Barry M Nail Art Pen in Silver which I've tested for the first time. The silver colour nicely opaque and flows well. It was actually very easy to work with and I hope I'll see some more shades of the nail art pens - but don't forget the need for excellent pigmentation, Barry M!
The Black and White pens are not fully opaque and it bothered me quite a bit as I needed to draw twice. But this one was better. I've done just an 'abstract cobweb' design over Darling Diva Catherine. The ring finger has been decorated with square metal studs from Born Pretty Store Stud wheel.
I've used the metal square studs from this particular Stud wheel and there will be many more manicures coming as there is a wide range of studs. You can choose from black, silver and gold finishes and from different shapes and sizes. I like the small studs the best as my nails are not wide and the big ones tend to stick out.
The second half of this post is dedicated to the Darling Diva Catherine because this polish deserves it!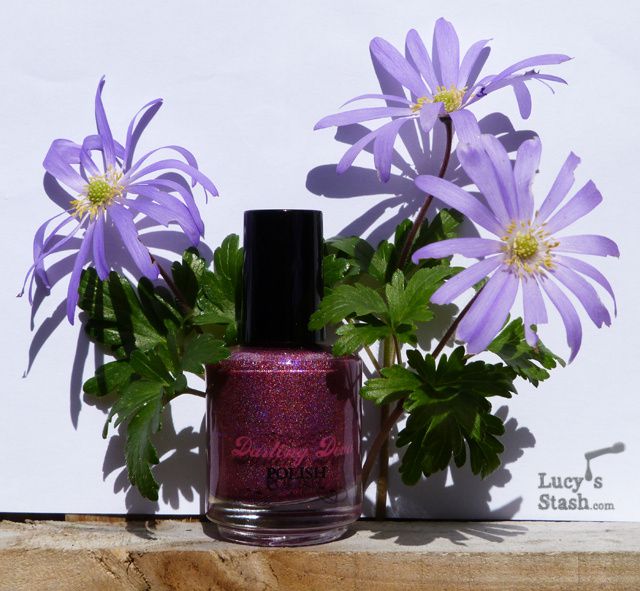 Catherine - red-based holographic base with blue iridescent glitter.This polish is absolutely stunning and you need it if you like purples! it has a very good formula that applies easily and two coats were enough for good coverage. I needed topcoat to smooth out the surface but I would use the topcoat anyway. My pictures don't do it justice, it's much prettier in real life.
*This polish has been provided for a review
Picture taken in shade. The iridescent glitter really stands out in the shade, this polish is just pretty everywhere you go.