Hello lovelies,
Yay! It's Bank Holiday Monday so I'm enjoying extra day off! I'll be catching up on some blogging work and cook lovely roast dinner :)
There's one thing I wanted to ask you for before I show you the Ruby Wing polishes...The new Cosmopolitan Blog Awards for 2013 have started accepting nominations and it would mean the world to me if you would nominate me! I'm competing in Best Established Beauty Blog category and you can nominate me HERE.
Thank you xxx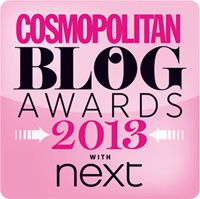 *Products have been provided for a review
Back to the polishes :) I have here two new Colour Changing polishes in Poppy and Sunflower which are both part of the Spring Garden Collection. These Colour Changing polishes are no different than regular polishes application-wise so just apply them as usually. Once you get outside they will start changing colour.
These polishes were sent to me by Color Society.
From Ruby Wing website: Ruby Wing™, the first collection from SolarClub, is every free spirit's dream: nail polish that changes color in the sunlight or daylight.
(SolarClub is part of the New York-based company Forsythe Cosmetics®, manufacturer of Color Club®-a brand dedicated to celebrating color in all its form. SolarClub represents a perfect blend of east and west, city and country, day and night.)
Color changing polish has traditionally been unpredictable. But after years of research and development, SolarClub has perfected the most consistent, stable, and durable SolarActive® technology to date.      Formulated and bottled in New York City, every Ruby Wing™ polish is completely non-toxic, environmentally safe, and 4-FREE (no harsh chemicals like toluene, formaldehyde, camphor, and DBP). Plus, they're vegan, and never tested on animals. Your life is full of variety and change. Shouldn't your nail polish be, too?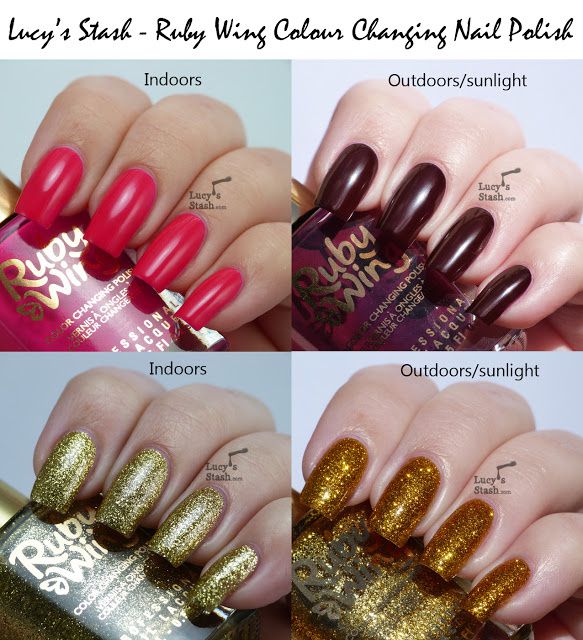 Poppy - hot neon pink creme. This polish is amazingly bright pink when indoors, I absolutely loved the colour. Of course my camera didn't capture the exact shade:-/  Once I got outside, it changed fast to dark red, almost maroon brown. I wasn't very keen on that shade as I'd prefer more red-ish colour. It took a while for the colour to change back to the neon pink after I got back inside the house.
The formula was very good, it applied easily. One coat was almost opaque but my nail line was still visible so I've applied second coat. One more thing - it doesn't stink like usual nail polish! This one smells to me like hairdressers, you know the smell of hair colourants?  But it could also be a poppy scent, I'm not sure (...poppies stink to me too).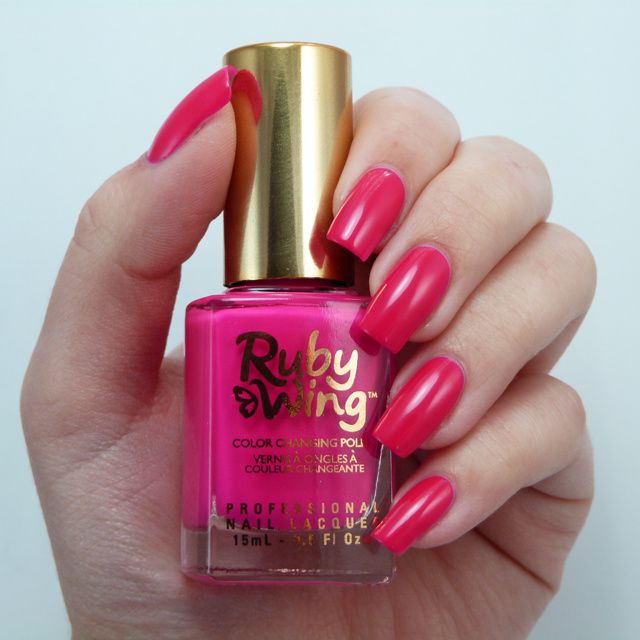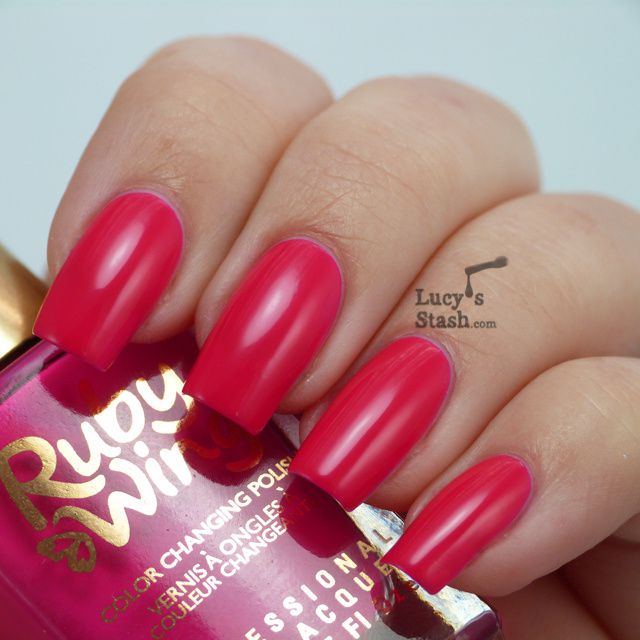 Pictures outdoors...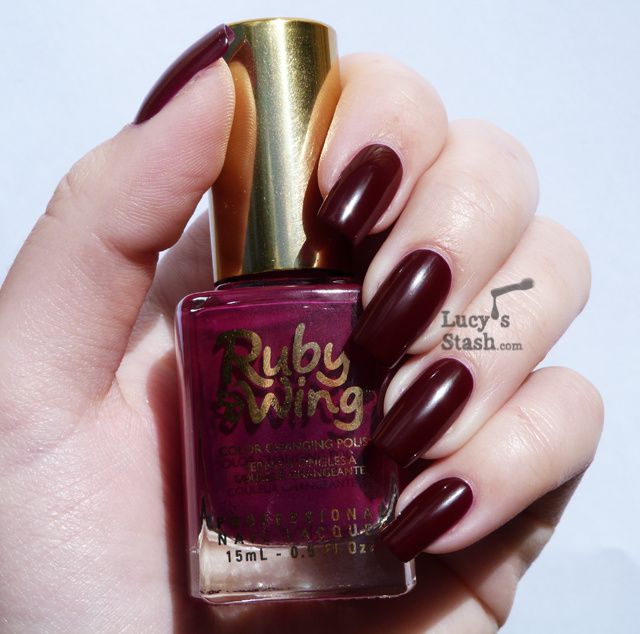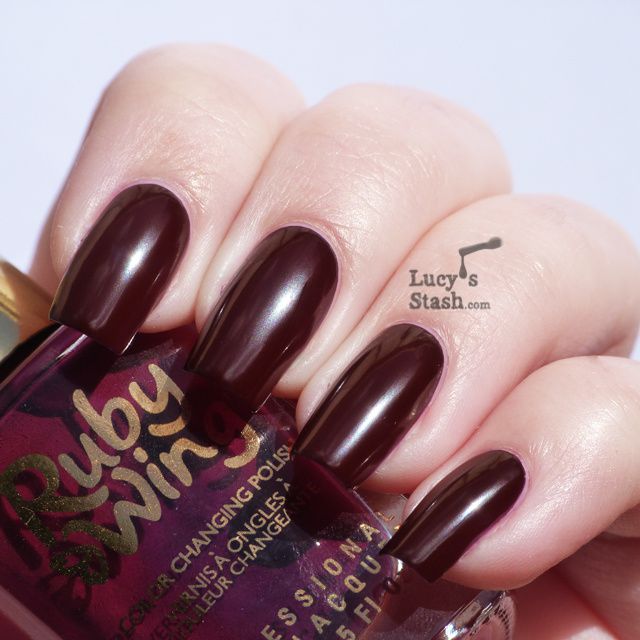 Sunflower - fine gold glitter in a clear base. The glitter is very dense so you don't have to layer it and two coats will be opaque.It applied very easily, I've had no problems there. The drying time was slightly longer as I've applied thicker coats. It also dries slightly sating and quite smooth. It smells flowery and somehow the scent reminded me of sunflowers but I cannot vouch for that as I vaguely remember the smell of sunflower. Removal was difficult as with any other glitter.
Once I got outside, the colour changed very quickly into coppery gold. It sparkled in the sun so much that I couldn't keep looking at it without my eyes watering..that's how gorgeously sparkly it is!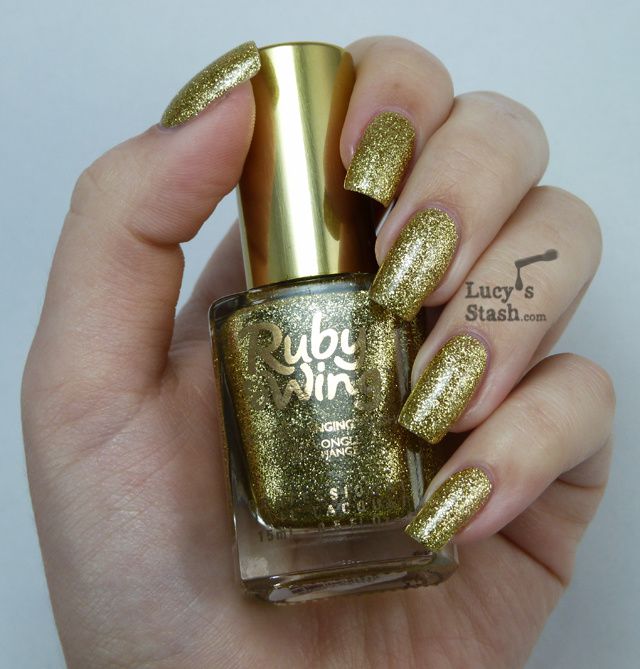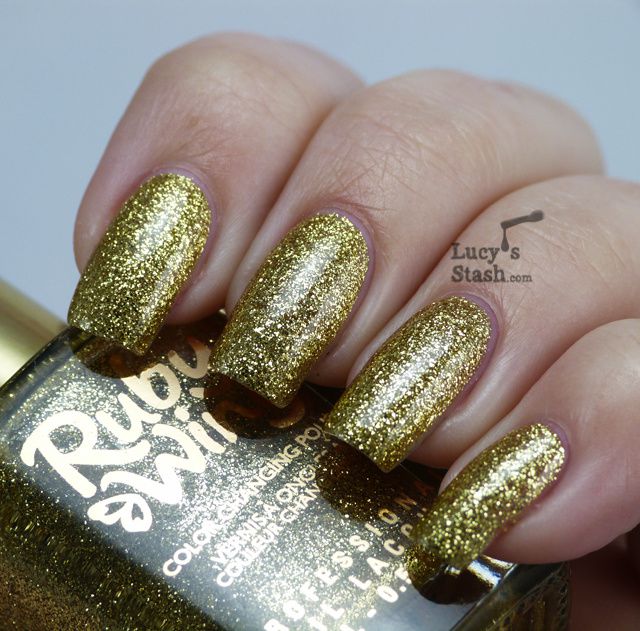 Pictures outdoors...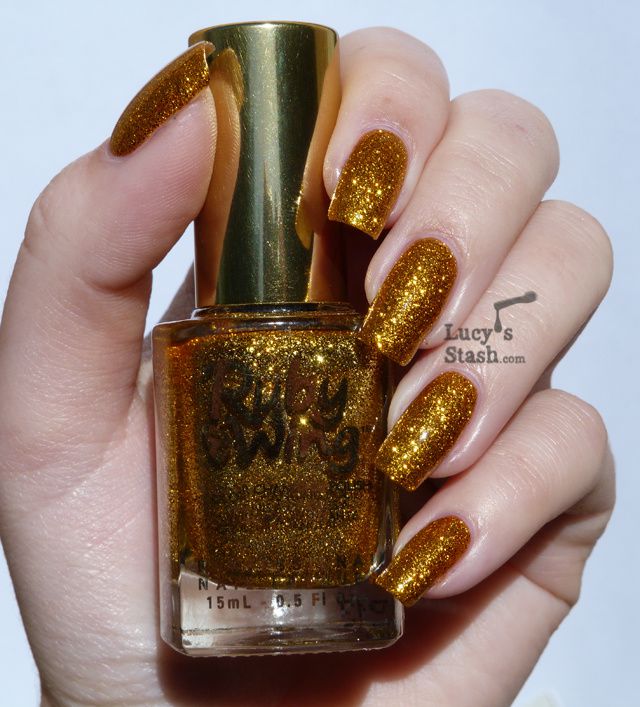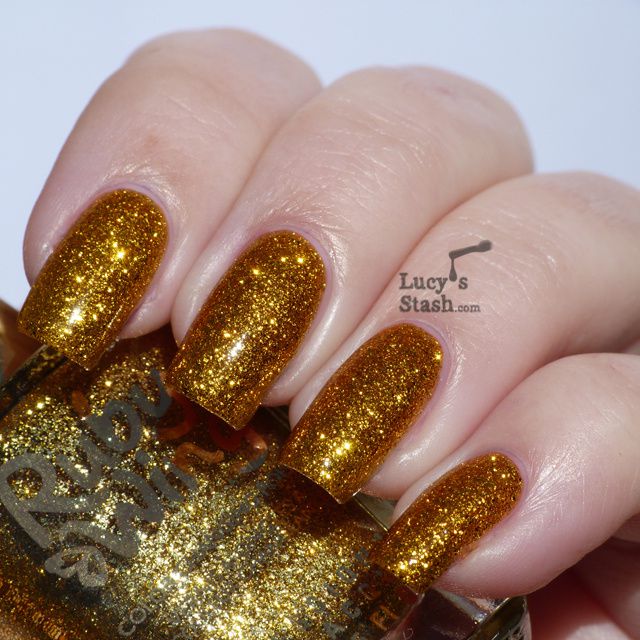 Overall, I like these very much. The formula is good and the colour changing effect is fast and nicely visible. I'll be on the lookout for some other shades as the summer collection is full of bright colours!
You can purchase these at Ruby Wing website for $10. There's currently a 15% discount on selected shades with coupon IHEARTMOM. I've heard that Urban Outfitters sell selection of Ruby wing polishes too.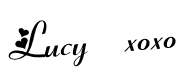 *Products have been provided for a review