Hello lovelies,
this post will be all about lace nail foils and a Rio Beauty set I got for review. The following tutorial can be applied to any nail foil as the steps are exactly the same.
Firstly let's have a look at the Lace Nail Foils set... it includes six different lace foils (red, black, white, pink, gold and silver), application stick, adhesive, 2-in-1 varnish and red nail polish. It all comes in a sturdy black case. The set can be purchased at Rio Beauty website for £29.99
Secondly let's learn how to work with the nail foils: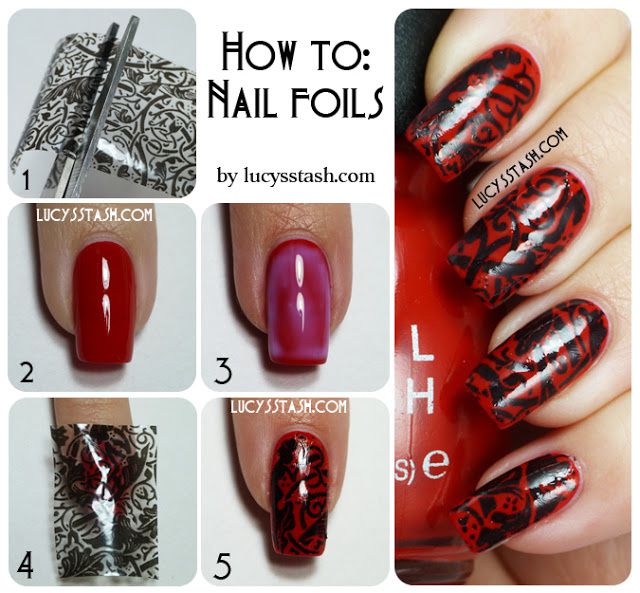 Foil application
Cut the nail foil into small pieces that will fit the nail. It's always better to cut slightly bigger pieces in case you need to re-apply the foil
Paint your nails with chosen nail polish and let it dry properly. If the polish is not dry enough it might stick to the nail foil piece and it might come off the nail
Apply thin layer of adhesive/foil glue and let it dry. The drying time depends on what kind of adhesive you use. The adhesive in this kit takes about 8 minutes to dry. You'll know the adhesive is dry when it goes completely transparent. It stays tacky though so don't touch anything!
Place previously cut piece of nail foil on the first nail. Use hoof stick or your finger wrapped in tissue and start pressing and rubbing the foil on the nail so it sticks properly
Carefully remove the foil. If the design is perfect just seal the design with topcoat. It might however miss some parts of design ocassionally. In that case re-apply glue, wait for it to dry and apply foil again.
Lace nail foils can be very tricky as the lace might not stick on the whole nail properly everytime. I can't tell you how frustrated it got me sometimes. Sometimes it can be fixed by re-applying glue and foil, sometimes I have to re-do whole nail but the result is great.
I've done a video tutorial as well for you :)
 
If you are new to nail foils you might consider this set as it comes with everything you'll need and I'm sure you already have nail polishes to apply the foil over. I consider the set being very good. The only issue I have is with the 2-in-1 varnish. I have used it over the lace foils and it made the finish slightly cloudy as you can see on the read & black and silver & black manicures. I have tried other topcoats (Seche Vite, Poshe, barielle etc.) and they stay clear but crinkle the foil. So I personally don't have a perfect topcoat for foils.
If you'd like to ask me a question about nail foils and their application, please leave a comment.