Hello lovelies,
It's day 5 of the Nail Art Fashion Week and we are taking inspiration from Fashion Bloggers/Style icons. The brief was clear: "create a design inspired by your favorite fashion icon, i.e. by her/his outfit, her favorite colours or maybe nail art that they wore. It can be an actress, blogger, model or your neighbor – anyone you consider a style icon."
I've chosen Emma Watson as my style icon and today's nail inspiration. And I've just learnt this morning that it's her birthday! What a wonderful coincidence! HAPPY BIRTHDAY EMMA!
I've seen her wearing some chic outfits and beautiful dresses plus I love Harry Potter and her other movies and what she does with her influence in real life. She is an inspirational woman and a great role model. Once she wore this beautiful Maxime Simoens dress with watercolour accents and I've attempted to recreate it on my nails.
For this look I've used to coats of OPI My Boyfriend Scales Walls, a muted white with grey undertonnes. Then I've applied OPI Matte Top Coat which would make the nail surface better for watercolours. I painted the pattern with my Winsor & Newton watercolour set and sealed with Seche Vite top coat. Here's the glossy version for you as well: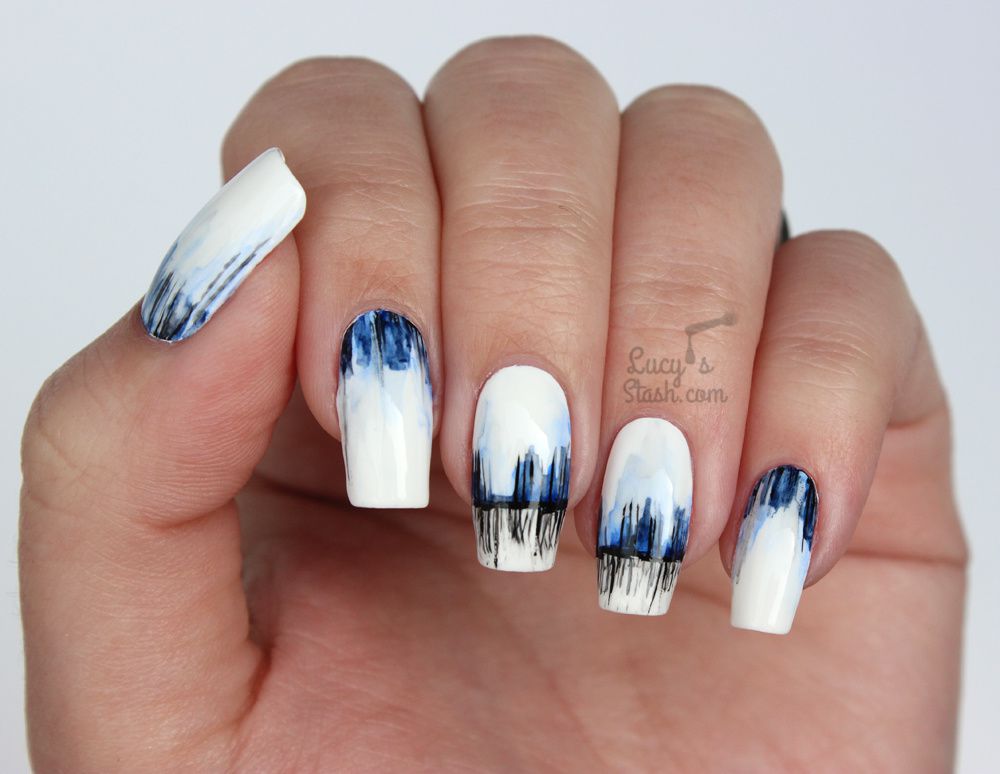 Hard choice but I still prefer the matte version, what about you?
Here you can check my previous NAFW manicures:
Don't forget to check out manicures from all the other co-hosts: Maria from So Nailicious, Victoria from
Manicurator, Emily from Very Emily and Anja from Lieve91.
You can follow the challenge and see all the manicures created each day by checking out the #NAFW2016 hashtag on Instagram and Twitter. We will be reposting our favourites on our Instagram accounts so join the challenge, create some amazing looks as suggested by the schedule, include #NAFW2016 and maybe you'll be the one featured on my IG account! If you'd like to know more, check out the announcement post with all details and how to join!
Have a lovely day! Lucie x