*PR sample
Hello lovelies,
OPI has introduced more Liquid Sands polishes in the Bond Girls Collection and I have swatches of all of them for you! the collection consists of six Liquid Sand polishes and each is named after a Bond girl. So let's have a look at them: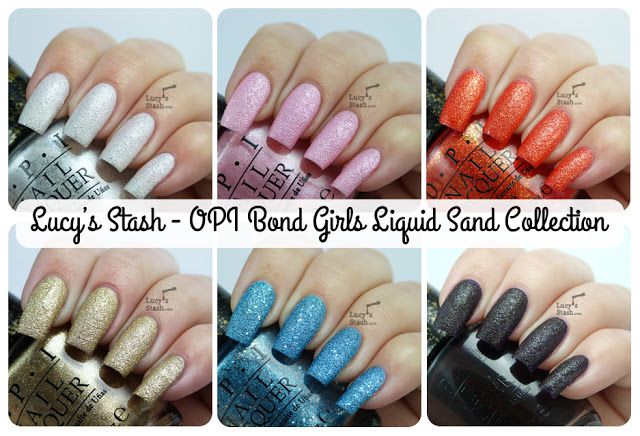 Honey Ryder - champaign gold glitter texture. It's a pretty and office-friendly shade which I liked wearing. It applied easily and two coats were enough for full coverage.
Jinx - orange-coral base with gold glitter. The finish is very sparkly and bright, perfect for Summer! Two coats were enough for full coverage and the polish applied very nicely.
Pussy Galore - light baby pink base with fine fuchsia glitter. It's a gorgeous girly shade with blue undertones. Pussy Galore felt smoother to touch than some other Liquid Sands. It had good and easy to apply formula and I needed just two coats for full coverage.
Solitaire - pearl silver white with silver glitter. Solitaire is very sparkly and not overly gritty. It applied well and I'm wearing two coats.
Tiffany Case - aqua blue base with silver glitter. This is my favourite of al the Bond Girls shades, I love how sparkly it is and the bigger silver glitter nicely stands out. I'm wearing two coats that were fully opaque.
Vesper - eggplant purple jelly base with black glitter. The colour is very dark and rich in real life, my pictures don't seem to capture the true beauty of this polish. I've applied to thicker coats for full coverage.
I feel that this collection of Liquid Sand texture polishes have much improved if compared to Mariah Carey collection. The finish is gritty but not too sharp. They all applied easily and were opaque in two coats. The drying time was rather average. The polishes look dry and gritty within 5 minutes but they are not truly hardened so be careful in the next approximately 30 minutes.
The removal is similar to glitters so let them soak properly otherwise the glitter particles stick to the skin. All polishes also look very nice wit topcoat but you'll need at least two thick coats.