Lucy's Stash Birthday Giveaway with two winners! CLOSED
Hello lovelies! I have something very special today - Lucy's Stash Birthday Giveaway!
It was my birthday yesterday, 26 September and I am also very close to a milestone of 900 followers. So I've decided to treat you too :) I'm so excited I finally have another giveaway!
There will be two winners in this giveaway and the two prizes really differ. Prize #1 is for the nail polish freaks like me and the Prize #2 for beauty product lovers :) I didn't want to do just nail polish prize as I have followers among beauty bloggers as well.
Please note that some of the nail polishes have been swatched but cosmetic items are new!
So what can you win?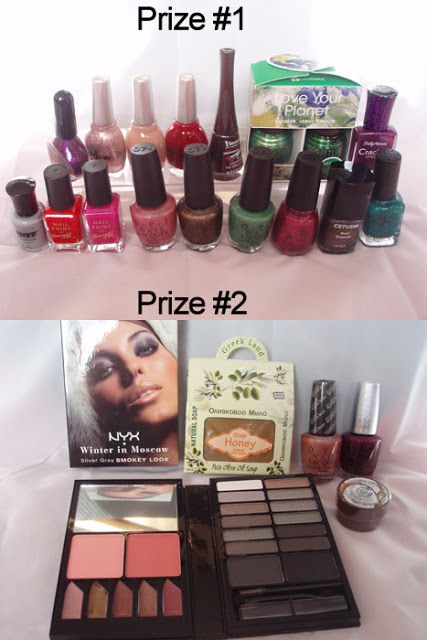 Prize #1:
SpaRitual Love Your Planet set - you guys loved these polishes so much that I've decided to include them
Color Club Untamed Luxury
OPI Don't Mess With OPI
OPI Not So Bora-Bora-Ing Pink
OPI Shim-Merry Chic
Cetuem 194 - exciting brand I've recently discovered. This duochrome beauty is a must!
China Glaze Endurance
Barry M Bright Red
Barry M Fuchsia
P2 Summer Party
Sally Hansen Vintage Violet - Crackle overcoat
Bourjois 1 Second - 23
Collection 2000 Wham
Superstar Skinny Vanilla Latte
Superstar Soho Chic
Superstar  Remember Me Red

Prize #2:
NYX Winter in Moscow Palette for Silver gray smokey look
Greek Olive Oil and Honey Soap
The Body Shop Coconut Lip Butter
OPI Suzi Sells Sushi By The Seashore
OPI Designer Series Extravagance - the most beautiful one from Designer Series!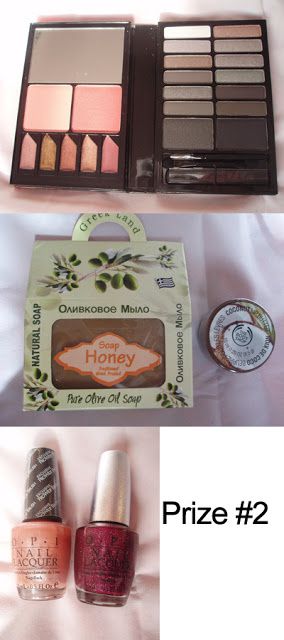 The rules: - I am trying out new giveaway gadget called Rafflecopter so please follow the instruction in the gadget. You can gain entries for following, being a Facebook fan, tweeting, blogging, leaving a comment :) If you will have any problems with entering through Rafflecopter, you can send me an email with your entries to: lucisek.beluha@googlemail.com
Good luck everyone x