Review: Models Own Artistix Nail Art Pen + Skittle Nail Art
Hello lovelies,
I've made an order in the recent 50% Models own sale offer and today I'd like to review Artistix Nail Art Pen. I've had few people asking me for comparison of Models own and other nail art pens so that's why I purchased one.
Each pen holds 6 ml and has metal tip and striping brush. I have used the striping brush for the whole manicure because the metal tip was just too thick/big for my liking. But first I had to prep the striping brush. It didn't come nice and thin like I would expect so I cut off few bristles to make it thin enough to paint the lines on my thumb...and those aren't too thin either...

I have painted just random patterns on my nails to test the pen. The biggest problem I've had was that it started to get really gloopy not even halfway though painting my hand. I've had to be really careful around the neck of the bottle and swipe all the gloopy polish off. Sure, some thinner would help but I wouldn't expect it to go gloopy after few nails. Not good...
I have tested the nail art pen over five Models Own HyperGel polishes. They were good to apply and all were opaque in two coats. Although the white was a bit streaky and less pigmented and I expected excellent pigmentation and secretely hoped for it to be one-coater. That didn't happen. I'm glad I tried them though and even better on 50% sale. I don't think I would be too happy paying full price for them.
Now let's get back to the nail art pen. I told you that the metal tip is quite big and here you can see for yourself how it compares to Nails Supreme and Rio Beauty pens.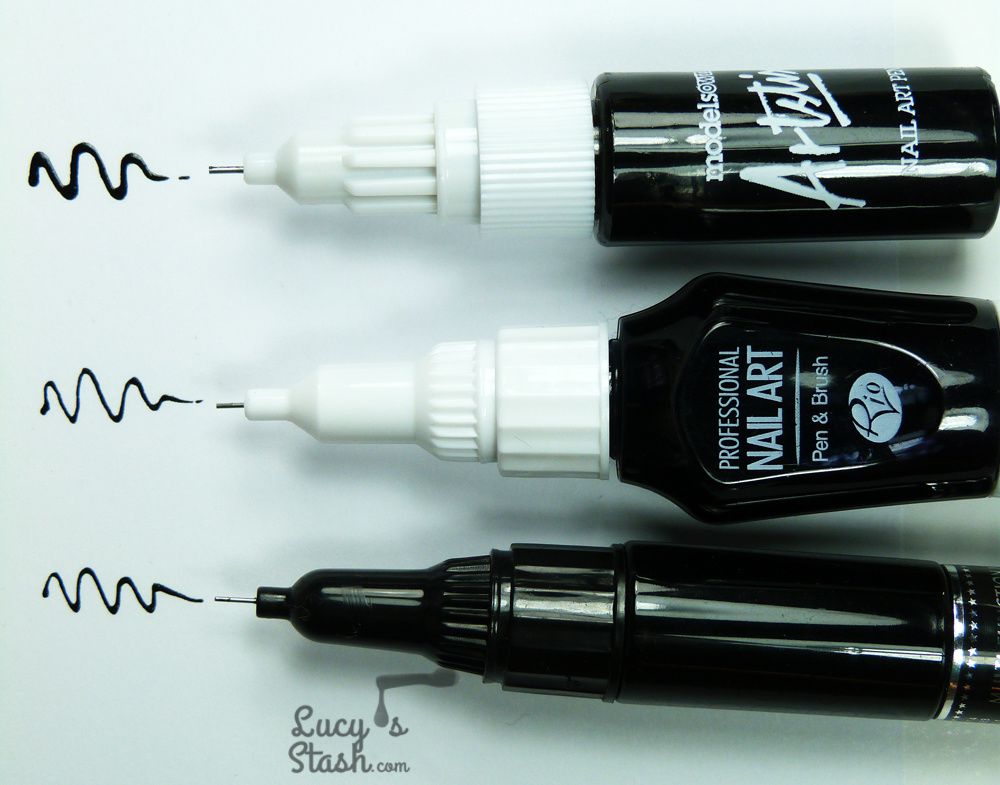 As you can see, the Nails Supreme pen (bottom) has the thinnest tip and can produce nice and thin lines. Then there's the Rio Beauty pen (middle) which is slightly bigger but I can still work with it quite fine. And lastly the Artistix pen (top)...I just don't get it...I was so gobsmacked to see such thick tip, just what were they thinking? This is supposed to make nail art easier, not more difficult! I know that it doesn't seem that much bigger but trust me, it makes a huge difference when using it.
Overall, I'm very dissapointed with the pen and if you ask me which pens to buy, definitely invest in a set of Nails Supreme. They don't have striping brush (which you can use striper brush instead) but their metal tip is the thinnest I've tried.