Fossil Watch Review & Chic Nail Art Design
*PR sample
Hello lovelies,
Today's post is very exciting for me because I want to show you not only some chic nail art but also a stunning watch I got for review! Plus I got to play a hand model for a bit :D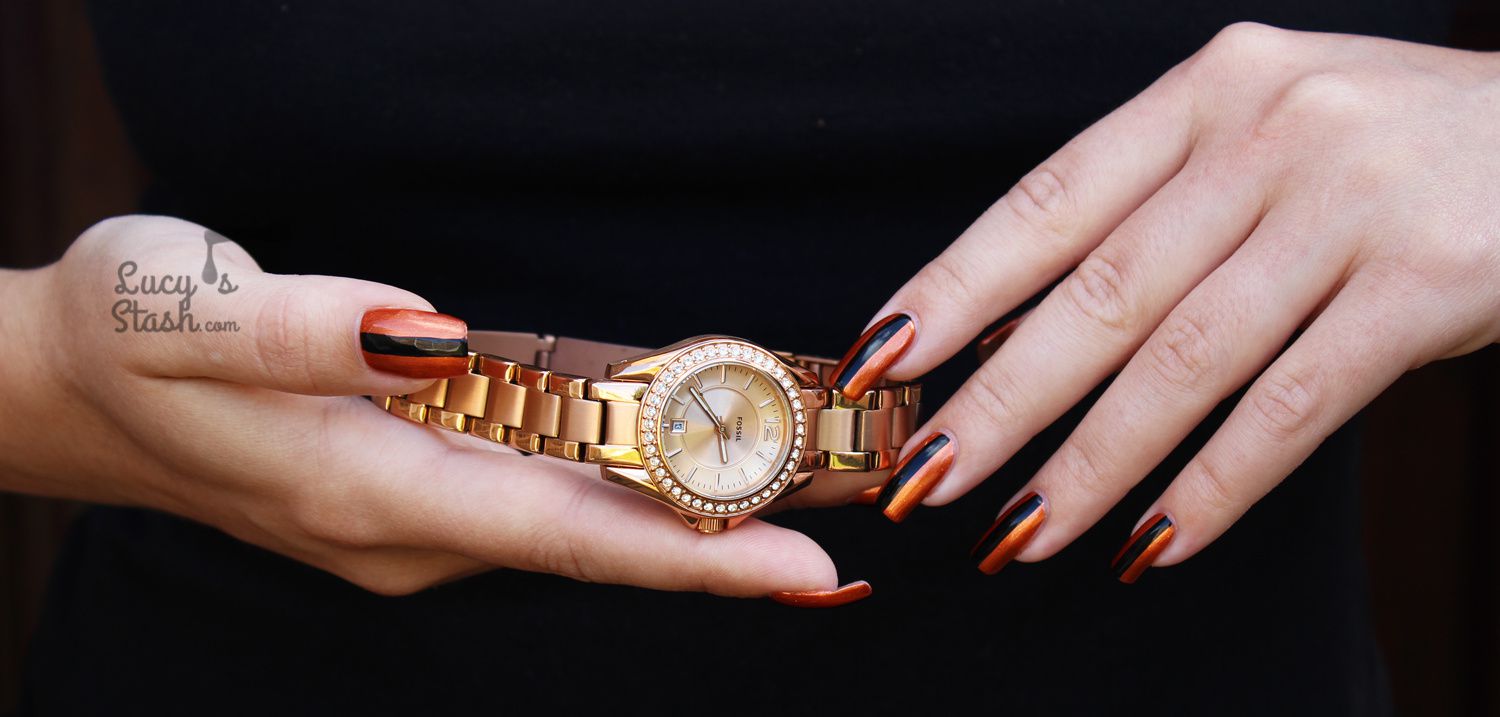 So firstly let me tell you about the watch - it's a rose gold watch by Fossil (sold at chriselli.com) decorated with crystals around the clock face. I chose this one because it's very feminine, sparkly and I haven't really seen many rose gold watches around (meaning seeing them on people).
It has 29 millimetre clock face which is a perfect size for my small arm. I did have to take out three links but I have a cheap set of tools for that so it was very easy to do. The strap is made out of stainless steel and the watch is water resistant up to 100m but I definitely won't be swimming or shower with it!

It's beautiful, right? The crystals are very sparkly and the whole watch is so shiny. The watch came in a metal tin with a user guide inside and was wrapped around paper carton. I'll be keeping that packaging and storing my watch in it for sure.
So now comes the part where I play a hand model :) I've tried my best and my fiancée helped with taking the pictures but unfortunately my hands can be real awkward sometimes and I don't have a fully professional photo set up either.

As for my nails, I wanted to use a rose gold metallic polish paired up with black but sadly I don't own one. So the closest thing I could find and would still go with the watch was Julep Zoe. Zoe is a bronze brown metallic shade and I've used two coats. Then I've used striper brush and Cirque Memento Mori and painted the black stripe.

I've been sent the watch from chriselli.com, an online store selling watches, jewellery and sunglasses (and yes, it is an authorised agent for those brands ;). They sell brands such as Emporio Armani, Calvin Klein, Kate Spade, Rotary and many more. You can follow Chriselli on Facebook for regular giveaways. They are also a sister store to watches2u.com who has daily watch giveaway so check out their site too!
So what do you think of my pretty new watch and the manicure? Let me know in the comments! Lucie x