Sparitual Water Collection for Spring 2012 - Review and swatches
Hello lovelies :)
So in the previous posts I've reviewed all the shades from SpaRitual Water collection and now it's time to put them all together in one post. Hope you'll enjoy them:
Ripple Effect - dusty mauve creme. This is very beautiful shade, I fell in love with it the moment I saw it! The shade in the first coat looks a bit lighter, jelly-like and in the second coat it creates fully opaque creme shade. It applied like butter - very easily with smooth finish. Polish also dried quite fast and I haven't experienced any problems when removing it. These pictures are without topcoat.
*This shade was provided for a review 
Deep - dark grey creme colour with rose shimmer. Polish has really nice formula, it applied easily and finish was smooth. Pigmentation is very good, it is almost one coater. I've applied two coats for perfect coverage. Drying time was average even without fast drying topcoat. There is a very strong rose pink shimmer in the bottle but unfortunately it doesn't translate on the nail. There is a subtle hint of rose pink shimmer only.
*This shade was provided for a review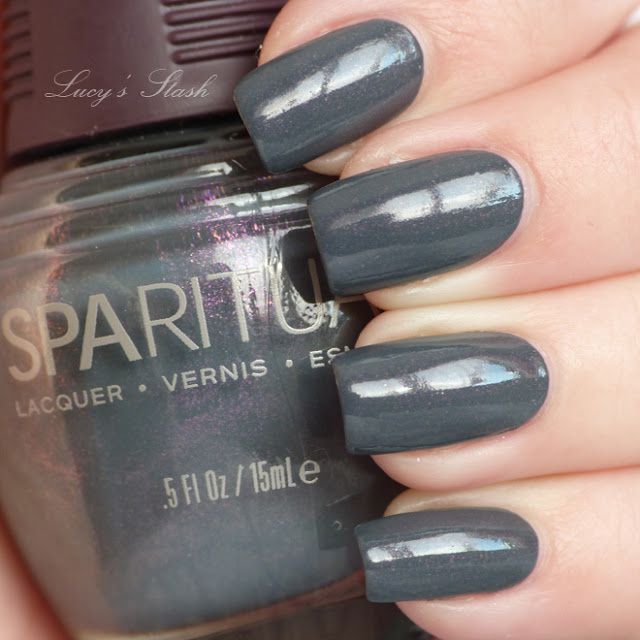 Ebb & Flow - very bright sky blue creme colour. This polish has great pigmentation, I'm wearing just one thicker coat in the pictures (that's why you can see ridges on my nails :D). However it dried rather slower. The removal was without problems as with the most creme shades.
Lucid -pale lavender creme shade. What a bold shade! Look how it stands out on my nails! The formula of the polish was again very good, it applied smoothly and it is very shiny. I didn't use topcoat. I'm wearing two coats which were enough for full coverage.
 Undercurrent - dark blue creme. It's a really nice rich blue with good formula. It applied smoothly and wasn't watery or anything. I'm wearing one thick coat and no topcoat. Great pigmentation and fast drying.
Hidden Reef -beautiful coral shade with gold shimmer. It's a very flattering colour and it will probably suit most. The formula is very good too, I've applied two coats and it is completely enough for a full coverage. I really like the small gold shimmer in it as it makes the shade interesting and not 'flat'. When I was removing the polish, I was battling a bit with the gold shimmer that was sticking to mu cuticles but otherwise it was ok.
It's an excellent collection and if you like the colours, I'm sure you'll love them as the formulas and pigmentations are great!  
SpaRitual will be donating 20% of sales to Surge. Bringing water to those in need, Surge is a non-profit organization that improves access to clean water for life. Surge increases public awareness of the global water crisis through education and investment in sustainable solutions. 
They can be purchased at https://www.sparitual.co.uk/  
 Water Individual Lacquers RRP £8.50
As with all SpaRitual lacquers, these new shades are vegan and free of DBP, Toluene and Formaldehyde and Formaldehyde resin. Each nail lacquer includes our sleek patented Plum Cap allowing effortless opening of the bottle and a non-slip grip while applying lacquer.