Hello lovelies,
Iv'e just came back from my long-awaited honeymoon in New York and I'm now getting ready for tomorrow's Scratch Stars Awards ceremony where I'm nominated in the Best UK Nail Blogger category!
For today I've prepared a review of four new Barry M polishes. Two of them are Superdrug exclusives and the other two are Boots exclusives so you can only buy them in those stores.
First up are Superdrug limited edition shades in Festival Fever and Carnival Couture. They are available in Superdrug stores and Superdrug online.
"Unleash your inner beach babe with these two stunning summer shades inspired by endless fun in the sun! Carnival Couture and Festival Fever will give your nails an instant injection of colour. Whilst your manicure will last for ages, these limited edition hues won't...so grab them quick!"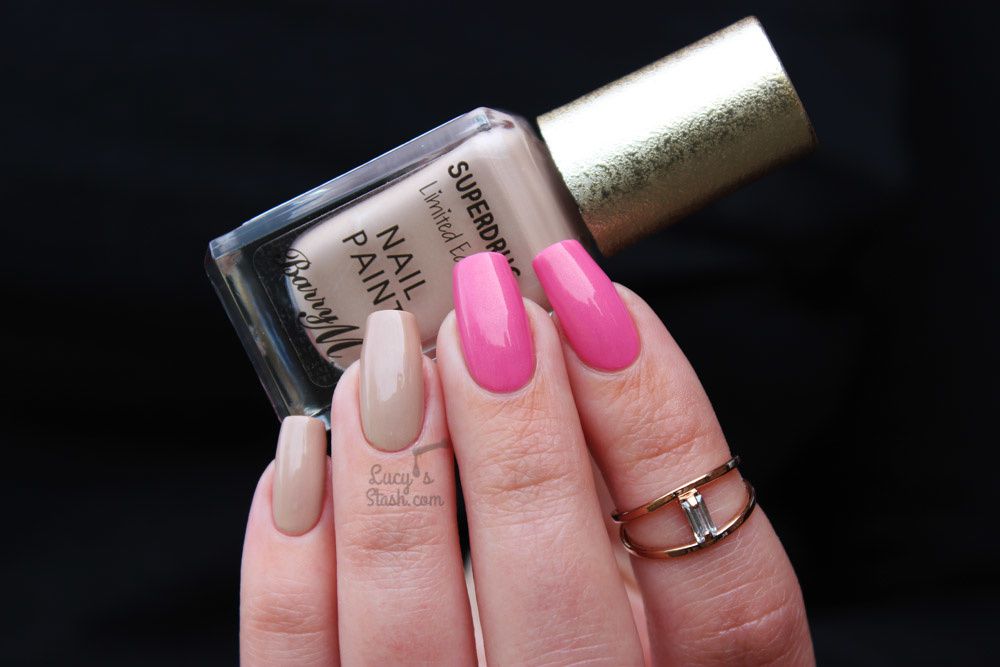 Festival Fever is a warm medium pink with a subtle gold shimmer. The formula was nice and easy to apply and I got away with two regular coats. The polish dries semi-matte but I always apply topcoat anyway so it didn't matter.
Next up is Carnival Couture, a nude shade with grey undertonnes and subtle silver shimmer. It was also opaque in two coats and dried average. The formula was little patchy for me but thicker coats solved that. Fast-drying topcoat also helped to speed up the drying time.

And now let me show you the two Boots exclusives, Golden Sands and Beachy Keen. They are available in Boots stores and Boots online.
"Life's a beach with these gorgeous, exclusive nail paint shades! Be transported to a tropical paradise with Golden Sands and Beachy Keen, two limited edition colours for summer. Get your hands on them while you can because like summer, they won't be around forever!"
Golden Sands is a gorgeous golden pale nude with gold sparkly particles. The formula was really nice and opaque in two coats and it dried fast. The final finish was again semi-matte but a coat of topcoat fixed that.
Beachy Keen is a medium tan shade with strong yellow undertones. Beachy Keen has a creme finish and was opaque in two coats. I've had absolutely no problems with this colour, great fomula!
So those were the four new Barry M limited edition polishes for this summer! My absolute favourite is Golden Sands! Not only it has a beautiful gold sparkle but I finally found a nude-ish colour that I loved on my skin tone! I hope you've enjoyed my flower photos ;)
The rings I'm wearing are from Luna Pyxis, an online store that sells jewellery handmade in South Korea. This first ring I'm wearing is X Criss Cross Ring which is an adjustable ring with lots of crystals. The other one is Rectangle Cubic midi ring also in rose gold colour and features one big crystal. They're so pretty!
Have a lovely day! Lucie x
*PR sample