Zoya Irresistible Collection for Summer 2013 - Review and swatches
*PR sample
Hello lovelies,
It's time for Zoya Summer collection! This is just first half called Irresistible which offers six shades with shiny foil-like finish.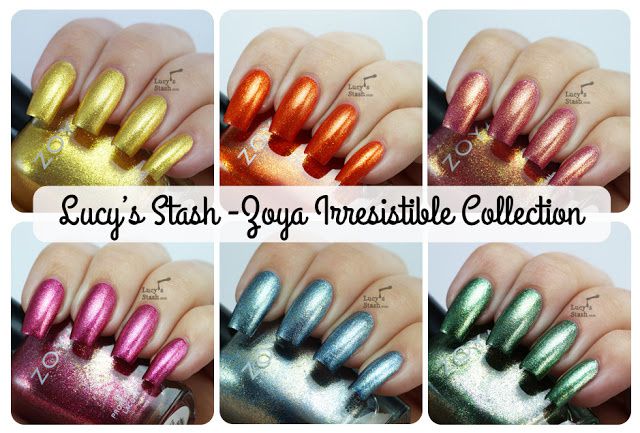 Amy - bright orange foil with gold foil flecks. It's a pretty colour that will certainly draw attention to your nails! It reminds me of Summer sunset.. It applied very easily and the formula was nice. I needed two coats for full coverage.
Tinsley - rose pink foil base with lots of gold foil particles. This is a really interesting polish, something I haven't seen in a while. The polish colour kind of changes in different light. Sometimes is more rose coloured and sometimes the gold in it really sparkles. I'm wearing two coats and the formula was easy to apply.
Bobbi - magenta purple base with silver foil particles. This is my favourite shade of the whole collection. It's a nice feminine colour that reminds me of many pretty flowers. I needed two coats for full coverage.
Rikki - pea green base with gold foil particles. I find it to be quite unique shade because the gold particles have slightly coppery colour. I needed just two coats for full coverage.
Hazel - light denim blue foil base with old gold foil flecks. This type of blue isn't my cup of tea but overall it is a nice shade. it applied well and two coats were enough for full opacity.
There are some nice shades in this part of the collection. My top picks are Bobbi and Tinsley. All polishes had very easy-to-apply formula and were opaque in two coats. The drying time was rather average as the foil finish takes a bit longer.
Zoya polishes are available at zoya.com (US) and in UK I know about Amarya.co.uk that carries them as well.