About The Day I spent At Nail Harmony HQ Training With Gelish
Hello lovelies,
As I previously hinted, I've spent a day at Nail Harmony UK headquarters training with Gelish (gel polish brand). Nail Harmony is a Gelish distributor for the UK but they also have their own brand All That Jazz (named after Jazz Smedley) with whole range of nail polish, manicure and pedicure products. There were also other bloggers attending - Alice from One Nail To Rule Them All, Sammy from The Nailasaurus, Lex from Taloned Lex, Em from My Pale Skin, Cat from Perfectly Polished and Melanie from Scratch magazine. Later on we were joined by Metta (from Nails by Mets), mobile and session nail artists and her cute baby.
The day started with a warm welcome from Ezara, a PR representative, teas, coffees and some yummy pastry for breakfast. I appreciated that very much since I had to get up early and drive for 2,5 hours to get there. The room was already prepared for us with several work stations and wall full of Gelish colours neatly on display. We could also check out All That Jazz manicure products that are stylised into silver tins and bottles with vintage-style labels.
We've had the pleasure of being taught directly by Georgie Smedley, the owner and managing director of Nail Harmony. First half of the day was about teaching us some basics about nails, their structure, health & safety and other important information we needed to know to safely do a gel manicure. There is a lot of information that we needed to know so we came home with printed materials as well to fill in what we haven't had time for. I would just like to emphasize that there is so much you should know before you decide to do your own gel polish nails safely so please always search for information from qualified technicians or do a course yourself.
Here are some pictures of Georgie Smedley in action working on Alice:
After we were shown how to do it properly we practised on each other doing plain colour, french and magnetic gel polish. It was a lot of fun although my french I did on Alice sucked!
I've put a shots of the magnetic gel polish being applied and Lex's beautiful nails! The last picture is of my right hand (the non-photogenic and 'cleaning' hand).
I've left with head full of new knowledge and All That Jazz goodie bag! In it I found Top Note topcoat, Base Line basecoat, Louise's - From Riches To Rubies nail polish, Bee Bar and Cuticle Oil in Chocolate Orange scent. I will do reviews later ;) Jazz herself stopped by few times so it was nice to see her there too.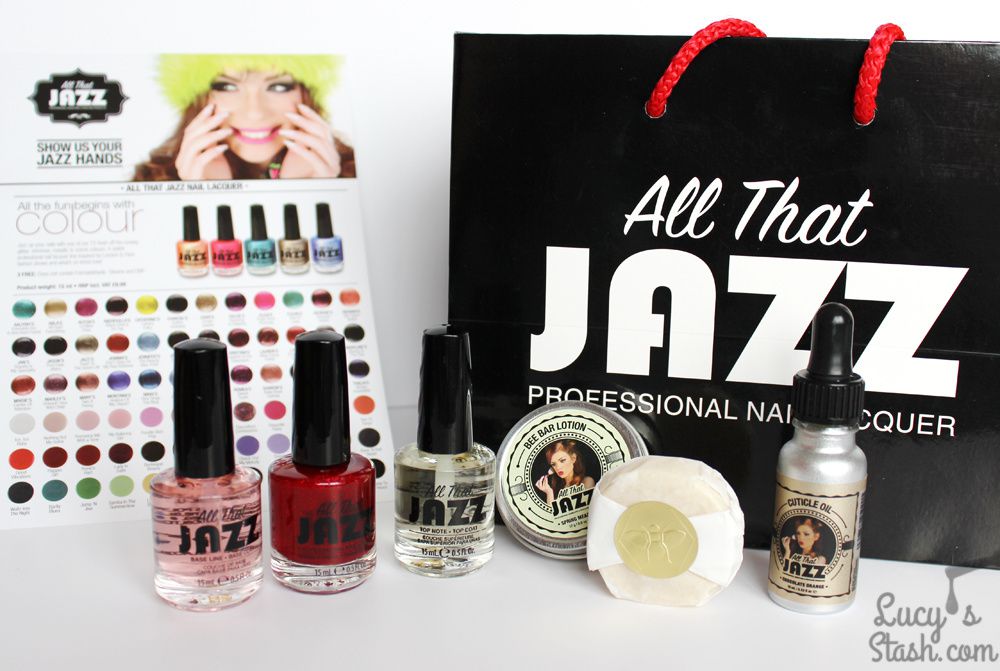 It was a great day! I learned new things, met great people, saw my girls Alice and Sammy again and tried Gelish for the first time. I will be writing reviews on the products I got later so stay tuned for that!
Big thanks to Nail Harmony and Georgie for hosting this training day, I enjoyed it very much!
Have a lovely day and stay polished! Lucie x