Barry M Midnight Gelly Collection - Review & Swatches
Hello lovelies,
As you probably know from my Barry M event report, Barry M has released Midnight Gelly collection for this Autumn/Winter season. This collection contains four new shades in off-black colours and super glossy Gelly formula. The colours are very far from the bright and pastel colours Gelly range currently has and I gladly welcome the change. Gelly formula is great so more colours, the better!
Barry M says: "Devilishly dark past the midnight hour. A/W1 saw a range of dark moody hues hit the runway, get the look and rock an off-black shade this season. Barry M Gelly Nail Paints provide an extra glossy, long lasting finish."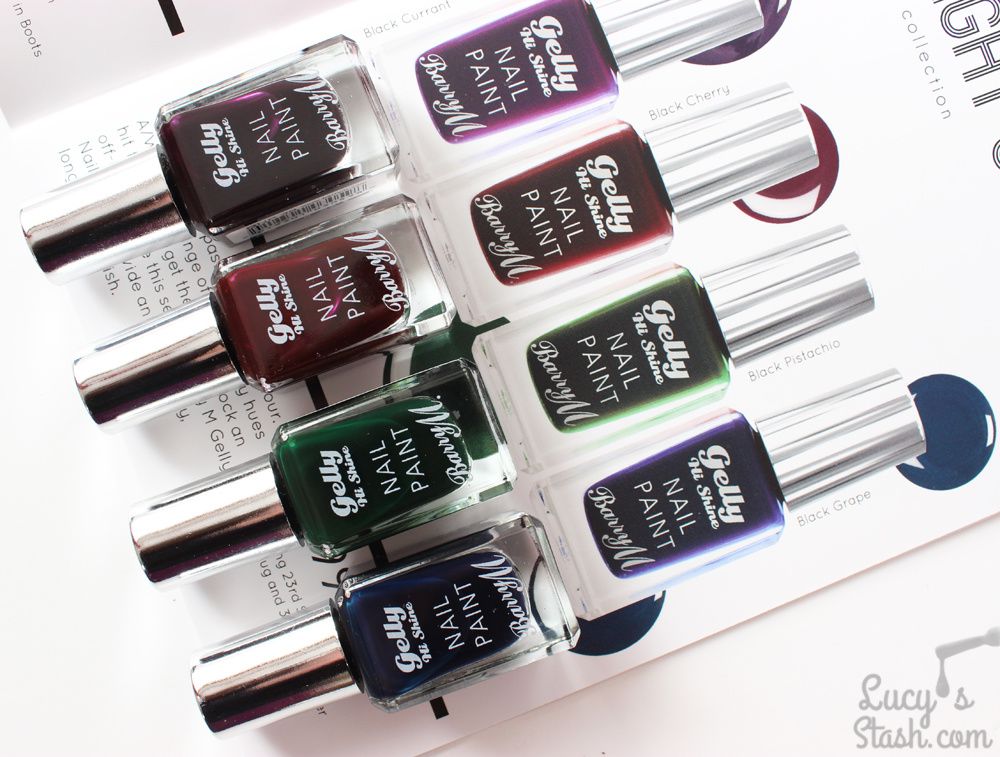 Black Grape - blackened navy blue. The colour can be nicely seen in a brush swatch and in the first coat but the second coat makes the colour fully opaque and dark as night! I could see hints of the blue tint in certain light but mostly it looks like black (not that it's a bad thing!). I'm wearing two coats and topcoat.
Black Currant - blackened red-based purple. The shade has just a hint of purple otherwise it appears almost black in two coats. I'm not wearing topcoat.
Black Cherry - blackened wine red. Gorgeous dark vampy red opaque in two coats. No topcoat
Black Pistachio - blackened dark green. This shade has a lovely green tint even though it's still very dark. It's fully opaque in two coats, no topcoat. Unfortunately it stained my nails yellow a bit despite using thick base coat.
All of the Midnight Gelly polishes have the same formula. They all applied easily and were opaque in two coats. The formula is very glossy and fast-drying yet not patchy. I'm also glad to see the rounded flatter brush back again, it makes the application much easier even on my small nails.
Midnight Gelly polishes and all the other new releases are available now in Superdrug, Boots and online on Barry M website.
Have a lovely day! Lucie
*Products featured were PR samples