1300 Followers Appreciation Giveaway! [CLOSED]
Giveaway time!
I was over the moon when I checked my blog on Monday 7th Nov morning and saw 1301 followers! I said to myself...well this calls for another giveaway! And what would be a better prize than the Models Own Beetlejuice Collection!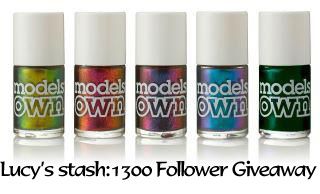 Giveaway starts on 8th November 2011 and ends on 20th December.
Please note that I will be purchasing the polishes at the end of November when Models Own will re-stock the sold out shades. If there will be a problem and they will sell out again before I purchase them or the re-stocking will be delayed, I will be shipping the prize as soon as I purchase it. So beare with me if there is a delay.
Good luck!