Invogue Matt Suede Effect polishes - Review and swatches of Hot Gossip and Domination
Hello lovelies,
Today I'm trying another new brand to me - Invogue. It is a new mainstream brand and it is also sister brand to Eye Candy London...
Invogue Domination - light grey matte finish. The colour looks like mixture of dark and light grey particles which creates a bit of depth in the polish. The formula was good and fast drying. I'm wearing two coats which provided full coverage. I did have one problem with it - it dries a bit too fast so patching can occur when going over already painted area again with the brush.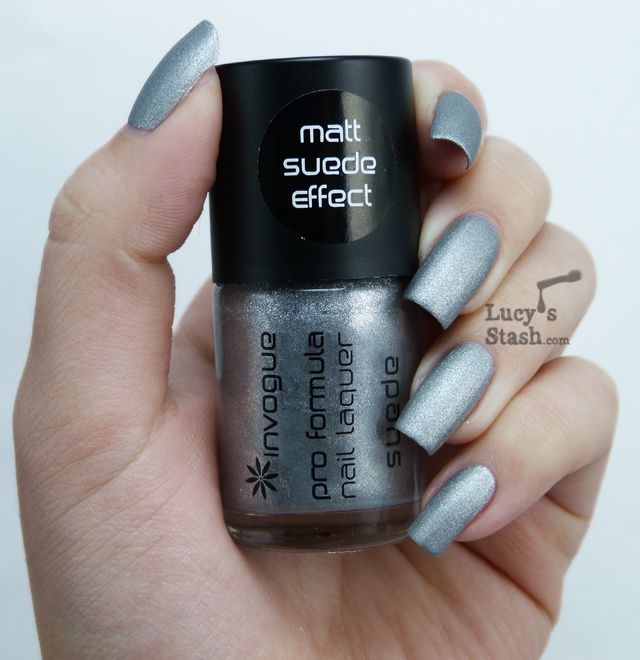 I've played around with the Invogue Domination and OPI Alpine Snow and you can see a bit the difference between the textures. I like the contrast between matte and glossy polish.
Invogue Hot Gossip - medium rose pink matte.The formula is exactly same as the previous shade so I won't repeat myself. Just to say I really liked the shade and the matt finish.
I have tried a nail art with topcoat but the difference is not major so the top coated parts are not that visible...what do you think?
I am very grateful that I have been introduced to this brand. Not only I like these Matt suede polishes but they also have Feather effect (like Nails Inc polishes), Neon, Concrete (yes, also like Nails Inc.), Liquid Metal and Hi-Res glitter lines at the fraction of the price of Nails Inc. polishes. I have already ordered polishes from most of the lines to try them out. I am yet to receive my order so can't comment on Fragrance Direct's customer service.
There are two places you can get this brand at: Superdrug from £2.99 and at Fragrance Direct from £1.99 (here they are overall cheaper!). Each bottle has 10ml.

*These were provided for a review