Pop Art Inspired Nail Art & Tangle Teezer x Little Ondine Competition!
Hello lovelies,
Last week, I've had an interesting proposition from lovely people at Tangle Teezer. They've asked me if I'd like to create a nail art inspired by their Tangle Teezer hair brushes and tell you about a Twitter competition between Tangle Teezer and Little Ondine. I immediately said yes because I'm a huge fan of Tangle Teezer (TT) brushes and I haven't been using any others for the past 4 or so years.
Once I browsed the TT website to look for an inspiration, I came across their Salon Elite line full of colourful brushes. I've had an idea for fun, colourful and almost pop art stylised images so I tried to get as close as possible to my vision.
I've used two Tangle Teezers in the photos - Lemon Sherbet, a canary yellow and pastel pink and Blue Blush, bright blue and neon pink.
As for my nails, I wanted to match up the polishes as close to the TT colours as possible and then stick to the colour combinations on my nails. I also didn't want a busy design bt something very simple yet bold. This design was most likely done before but I didn't intentionally copy anyone and just played around :)
For my left hand I've used KIKO 295 Cerulean Blue, a bright blue nail polish and then I've used striper and painted the middle section with Models Own Pink Wellies, a neon pink polish. On my right hand, I've painted my nails with three coats of Accessorize Bubble Gum, a pink creme colour. The using striper again, I've painted the middle section with Rimmel 452 Chin up, Buttercup, a bright yellow creme. All sealed with Seche Vite topcoat which ultimately betrayed me at this instance and I had quite noticeable shrinkage after couple of hours :'(
Here's the rest of the photos I did for you with the help of my husband and keep reading for the details of the competition and how to join!
Tangle Teezer x Little Ondine Competition
Follow @tangleteezer and @LittleOndineUK on Twitter, upload a picture of your nails (even better if you wear nail art) with a Tangle Teezer hairbrush and win the prize bundle!
Launching today, the 13th of June at 12 until the 19th of June (Sunday). You have until the end of this week to upload a picture of your nails with a Tangle Teezer hairbrush.
Winner will be announced on Monday the 20th of June.
Prize
The winner will receive 3 of The Original detangling hairbrushes and 6 Little Ondine peel off nail polishes and 3 top coats.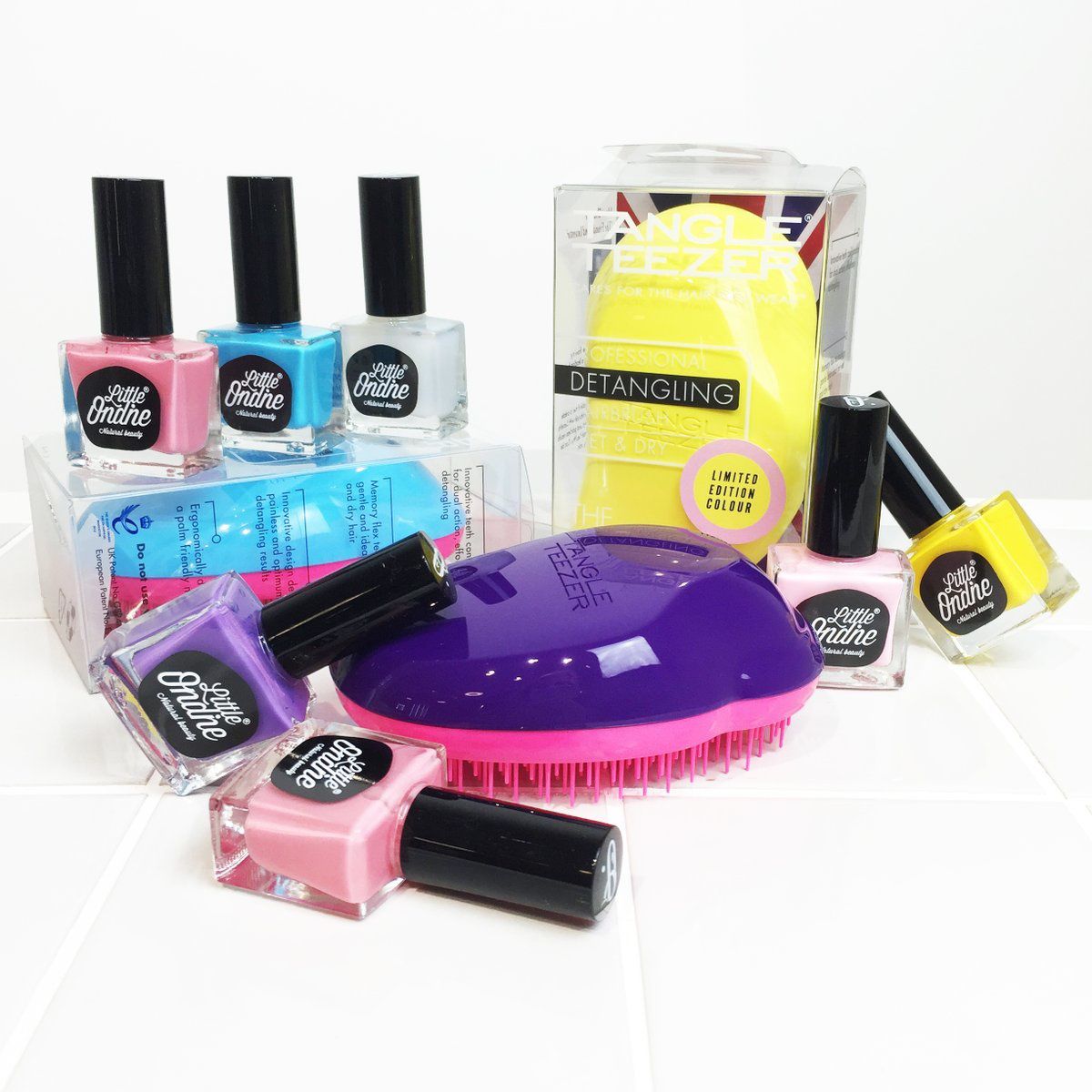 Are you a fan of Tangle Teezer like I am? If you own one or more of them then what are you waiting for? Enter for a chance to with these cool prizes from Little Ondine and Tangle Teezer!
I truly hope you've enjoyed my photos and nail art, it was so much fun to create them and play a hand model again :D
Have a lovely day! Lucie x
*PR samples - brushes provided for feature