December Amarya Beauty Box - Review and pictures
Hi girls,
I couldn't wait any longer and I want to show you what I had in December Amarya Box :) I kinda skipped reviewing the November boxes so I hope I'll find the time to do all the December ones (except Boudoir Prive/JolieBox). I subscribe to all of the boxes I will review, I don't get any of them for free.
My Amarya Box arrived yesterday - 7/12/2011 which is about a week later than last month. I had only three items in the box but they are nice samples and good value.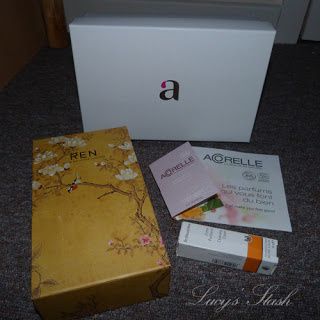 The main product is REN Neroli Duo Gift box - Zesty, invigorating, uplifting, REN's Neroli and Grapefruit duo contains a reviving body wash and a fresh and richly hydrating body cream. Perfect for sporty types, our Y chromosome friends and those who love a refreshing wake up shower in the morning.
I'm still not sure wether to use it for myself or to give it as a gift but Neroli and Grapefruit are not exactly the scents I would pick for myself. This gift box retails at Amarya website for £28 so here you get your value for money. Both are 200ml bottles. Overall it is a nice product with amazing packaging.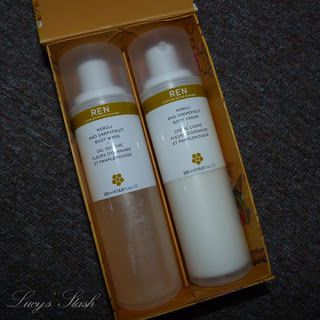 The second sample in the box is Dr.Hauschka Cleansing Cream - A beneficial approach to healthy facial skin care is to use Cleansing Cream, with its mild and very effective action. Features: A very important core product in the Dr.Hauschka facial skin care range. Deep cleansing. Maintains the pH balance so that the acidic barrier protecting your skin is not broken down. Maintains and supports the skin's natural moisture level.
I am very happy to try this Cleansing Cream as I've never tried anything from Dr.Hauschka. Full size is 50ml and retails for £14.95. The sample is 10g so the value is approximately £2.99
The last is perfume sample - Acorelle Citrus Verbena EDP. The unmistakable fresh citrus scent in this Verbena Eau De Parfum will delight your senses working in perfect harmony with your skin.Soothing notes of petitgrain, litsea (an evergreen tree), cedar, and neroli have a calming effect on the senses. Additional notes include mandarin, bergamot, armoise, cut grass accord, clary sage and cedar.
Family: Green Flowery Hesperidium Woody
Top Notes: lemon, tangerine, bergamot
Middles Notes: petitgrain, jasmine, notes of freshly cut grass, neroli
Base Notes: cedar
This is a first perfume sample I'm happy about! Yaaay! :) I like fruit and citrussy scents but not all of them appeal to me. Also the sample has a little spray pump so that makes it even nicer to use. The full size is 50ml and retails for £29.99
So that's it, my December Amarya Box. Can't wait to see other reviews and if we all got the same products :)