Zoya Cashmeres Collection for Fall 2013 - Review and swatches
*PR samples
Hello lovelies,
I've got here another collection for Fall 2013 - Zoya Cashmeres. Cashmeres collection consists of six creme shades and is only half of the Fall release. The second collection is called Satins and introduces five shimmer & metallic polishes and luxe gold topper. More on that one in another post ;)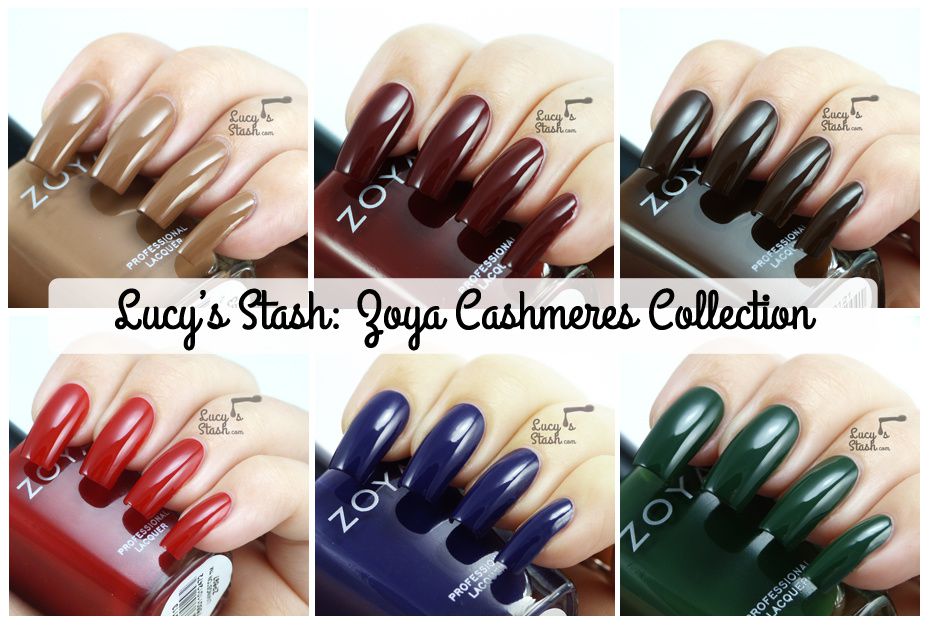 Flynn - light brown creme. It's a good neutral Fall shade that probably won't appeal to everyone. But I can imagine wearing it for a work interview or similar. I've applied two coats for perfect coverage.

Pepper - red-based brown creme. Pepper is leaning heavily towars dark red tones which I really like. It's a pretty and warm shade that was opaque in two coats. Pepper was earlier released as a part of Peter Som mini collection.

Livingston - red creme. It's a beautiful tomato red shade that I really enjoyed wearing. It's rather blue-based red that also offers great pigmentation. It is perfectly opaque in two coats.

Louise - dark chocolate brown creme. I'm usually not a huge fan of browns but this one is kinda vampy and I liked that. I'm wearing two coats. I've already done a nail art with it and gold nail foils.

Sailor - blue navy creme. The shade heavily leans towards purple and it's one of those colours I call 'blurple'. It is fully opaque in two coats and I absolutely love it! Check out a nail art manicure with Sailor.

Hunter - dark green creme. This is truly the same awesome green as Hunter wellies :) It perfectly fits the Fall season. I've applied two coats for full coverage.
The formula of all of them was perfect, no problems at all. They applied easily and were perfectly opaque in two coats, some of them almost one coaters. Zoya hasn't dissapointed me again. Their creme shades are always perfect and I also like the colours chosen to represent this year's Fall. My absolute favourites are Sailor and Livingston. Next one up is the Satins colection so stay tuned ;)
You can purchase Zoya at Zoya.com if you live in US. In UK you can get them at Amazon, Amarya or on Ebay. But I'm sure there are more places onlne that sell Zoya.

*PR sample