Abstract Nail Art with Models Own Dare to Bare Collection
Hello lovelies,
It has been sad few days...sad days in a life of a nail blogger because I had to say goodbye to a 'friend' :( Some of you have already seen my posts on social media where I've shown you my 'fallen' index finger nail that I broke doing some gardening. How I hate gardening! So yeah, I'm really bummed right now because I finally had a lovely almond shape. I've sculpted a new nail but it just isn't the same (I'm not that skilled at sculpting yet) and I can't wait for Christmas, when my nail will grow back.....geez, that is so depressing - my nail will grow back in time for Christmas!!! That is if I don't break another one :( On a happier note, it's not the end of the world, I know ;)
Luckily, I managed to take pictures of my latest mani so I can share it with you...
I have used three polishes from the new Models own Dare To Bare collection. This collection has the HyperGel formula and consists of five shades in total.
First, I've used Suede* - a muted pink creme as a base. I've painted all nails with two coats of Suede (I've only left three small negative spaces). Then I've used a small nail art brush and painted lines, dots and other shapes with Models Own Skin Deep* and Emperors Clothes*. All sealed with Seche Vite top coat.
And as I mentioned earlier, this happened the next day...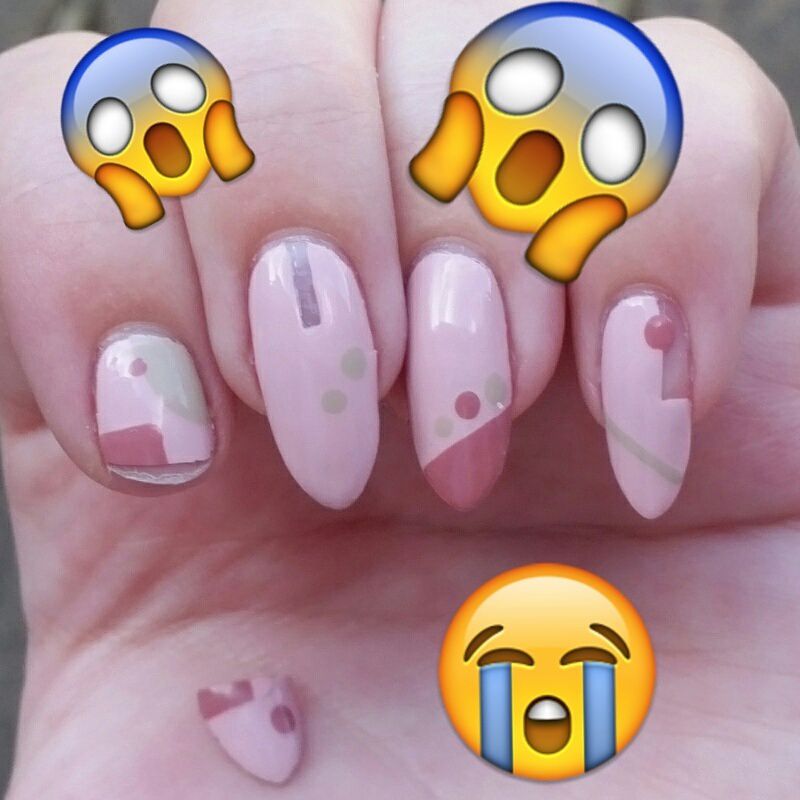 This manicure was a bit of an experiment and I'm definitely not happy with it but there's always a space for improvement in all my work :) But what do you think? Have you tried the Dare to Bare polishes yet?
My rings are from Luna Pyxis, an online store that sells jewellery handmade in South Korea. I've already received my new order so soon I'll show you some new rings I bought!
Have a lovely day! Lucie x
*PR samples