My first Boudoir Prive box! September full of treats!
Hello lovelies! Some time ago I came across Boudoir Prive boxes and I was curious and excited straight away! I'm sure you've heard about GlossyBox but oh my, Boudoir Prive box is sooo good!
I've already subscribed to GlossyBox and Beauty Box so I can compare every month all the boxes. So far I am very pleased with the Boudoir Prive box, the items in there are just great! It comes in a pastel pink box, products are wrapped in soft black tissue paper and tied with pink ribbon. It looks really luxurious. I found out that every single box is the same except some changes in shades of the products and I like it and I'll tell you why. I was soo dissapointed with GlossyBox when I scrolled down the long list of products that came in September box and I didn't get any of my favourites :( That really sucks, you know...
I can also tell you that soon there will be a Boudoir Prive reward system. Yay! I love reward systems :)
In the September box I found:
Tropic Skincare Body Smooth - I really like this product! It is applied on a dry skin/hands, then you rub it onto a skin and after about 20 seconds or when you feel you exfoliated enough you wash it off. It left my hands oily, lemony smelling and gorgeously soft! Very nice for a nail maniac who needs to take a good care of hands :) The full size (200ml) costs £19.95 which is a reasonable price for such great product!
Agent Provocateur L'Agent perfume - very feminine scent. I can imagine lots of girls will love this smell but it's not my cup of coffee..but don't taky my opinion on perfumes, I like some very rarely
Macadamia Hair Repair Healing Oil - I haven't had a chance to try this product yet but so far I can tell you that it smells delicious! Sample comes in 10ml bottle which retails for £5.75(!) alone. That's already a good value for the box
Colbert MD Nourish: Eye Cream - here's where you'll get your money worth! 15ml of tthis cream cost £90 and it's product used by Kate Middleton and Sienna Miller. It has really nice texture and it leaves your under eye skin nicely moisturized. I can't tell if it's worth the price but I'll use every single ml in the jar (about 4-5ml) because it's really nice.
Cargo Cosmetics Boogie Nights Eye Pencil - I got this dark blue colour with silver glitter. It's a grood product for ppeople who use eye pencils but I'm not one of them. I'm more of an eyeliner girl :) The pencil is full size and comes in a set of five which means this one pencil is worth £2.60
Zoya Neeka - Best at the end! Zoya nail polish was a great surprise! The shade is Neeka from Smoke & Mirrors Collection. There was also a Zoya promo booklet with swatches of the whole collection! Very nice! Nail polish is not a full size, it has 7.5ml
Mai Couture Blot & Bronze - this sample is an extra, it is not featured in the booklet. It's always very nice to get something extra, so thank you Boudoir Prive! I have very dry skin so I won't be needing blotting paper so I can't tell you if it works or not...sorry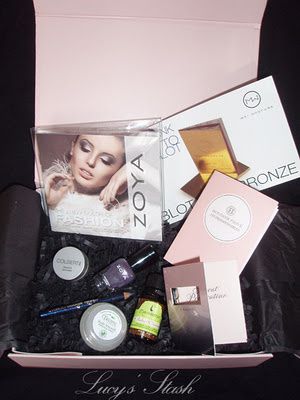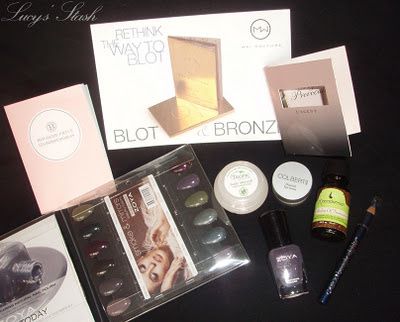 Girls, I would like to stress that not only Boudoir Prive, but also Glossy Box and other box services provide samples! It gives us a chance to actually try beauty products before we make our own decision to buy the full-size products or not. So don't expect full size products. I'm only saying that because I saw angry comments all over the social networks from girls that did expect full size products and then unsubscribed from the service just because they didn't get them.
To sum up, for September I like the Boudoir Prive box much more than GlossyBox and I can only recommend it. I can't wait to get October boxes!