Boudoir Prive October Box - little late review
Hi everybody!
I know it's a little late for the review of the October boudoir Prive Box but I received it just two days ago and really really excited about it! why? Because I saw reviews on other bloges and the items inside are just great!
And Why I got the box just two days ago? Well unfortunately my first box got lost in the post. Lovely people at Boudoir Prive sent me the second box and I couldn't believe it but it got lost again!!! OMG I was so angry at Royal Mail staff because obviously there must be somebody who knows about beauty boxes and steals them and since Boudoir Prive was not sent by recorded delivery (till now) it is impossible to find out where the package got lost. After second lost box I honestly said goodbye to the October BP box. I was very pleasantly surprised when Boudoir Prive sent me a third box! This it was via recorded delivery (thank you!) and box was delivered next day. I really have only positive things to say about Boudoir Prive staff.
Box came nicely packed again and under the pink ribbon I found an invitation from RMK to receive a complimentary skin consultation and relaxing mini facial at Selfridges including a goody bag while stocks last.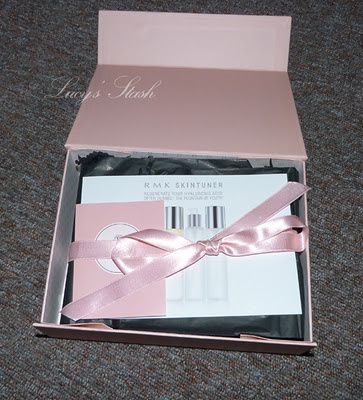 So what I got in my box?
Korres Guava Body Butter - I absolutely love this one! The smell is really yummy, I actually prefer it to my current favourite smell - Body Shop Coconut Body butter. The Koress butter is nice an rich and at the same time it soaked to the skin fast and didn't leave the familiar oily film on the skin that Body Shop butter does leave. This is a generous 50ml sample. Full size is 150ml and retails for £12.50
Cetuem Illuminating Mask - This is a 5ml sample of brightening mask. I haven't tried this one yet but the sample looks like it might last at least two applications.
Cetuem Creme de Lite - a moisturizer that is supposed to be applied after the mask...I'll try this one later too.
Rose & Co Apothecary Rose Petal Salve - Full sized tin of Rose petal salve...smells like turkish delight..you know that rose-y smell? I'm sure you do :) This is a very nice moisturizing balm that can be used on lips as a balm, over the lipstick to make it glossy, on dry elbows or as a eye gloss...cool, right? I have my eye on the some other scents. One tin costs £5 and has 20g which will last you quite a while.
Leonor Greyl Huile de Palme - Huile de Palme is a pre-shampoo conditioner that was soften and nourish dry and damaged hair. Haven't tried this treatment yet but it sounds pretty interesting. However it will be interesting how I'll get it out of the bottle as it just doesn't want to move :D The sample is 25ml and full version retails for £25 for 95ml.
StudioMakeup Liner Styler Pen - a black felt tip eyeliner in a full size. "The slim and soft tip provides precision in a single stroke". It has nice pigmentation but it dries very long time. I'm not a fan of felt tip eyeliners, I like to use gel liner and eyeliner brush so this baby will go to the swap box :) This product itself is worth £12!
Memo Paris Les Echappees Jannat - Jannat features notes of bergamot, citron, petitgrain, mandarin, frangipani, neroli, liatrix, clary sage, tonka bean and musk. Not really my fragrance as bergamot and neroli give me headache :-/ But it doesn't mean that somebody else won't like this smell.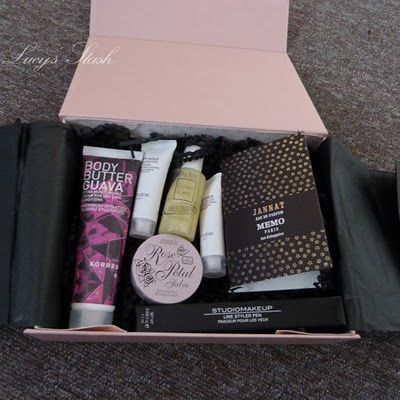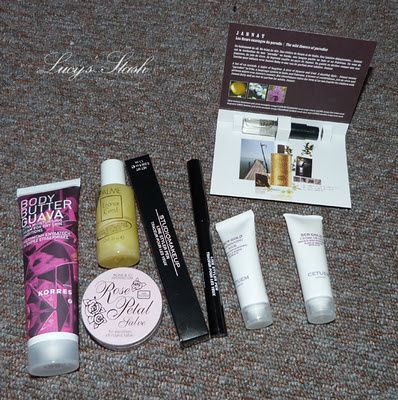 Overall I was over the moon with this box, I love the Korres body butter and the Rose petal salve the most and I still haven't tried few items! You can subscribe to Boudoir Prive box HERE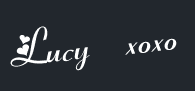 *Box was sent to me for a review by the company