WellNails Happy Slapsgiving! and Oh Honey..! - Review and swatches
Hello lovelies,

I've got here a 'new to me' indie brand WellNails from talented Charlotte. A little bit about Charlotte and the brand:

I'm Charlotte from Denmark. I'm 27 years old and has been a polishaholic since I lived in London two years ago. And it was all thanks to you lovely, British ladies, because I got so excited from the nice comments the shop clerks gave me, asking me for advice about how to layer polish and which colours I was wearing.
Nail polish isn't as big a deal here in Denmark as it is in UK. So I'm the first indie maker, and I started the WellNails line in October. I believe my signature thing is the Glow In The Dark polishes, they are quite popular.
I'm a glitter gal, which is quite clear when you look at my polishes ;)
I also have fallen completely in love with the American comedy 'How I Met Your Mother' – this is why I've decided to do a HIMYM-collection! I find inspiration in the show, both regarding colours and names. To me it's important to give each and every polish a life of its own, and that's why every one comes with a little story (I haven't had the time to fully update the shop, so therefore some of them hasn't gotten this feature atm, but I'll get there) ;)
*********************************
I love How I Met Your Mother too so I was really excited about the names! I've got two polishes to try - Happy Slapsgiving! and Oh Honey..!
Happy Slapsgiving! - mix of yellow, orange, red, copper and brown glitter in a clear base. The glitters are of different sizes which I really like as it's not all boring and uniform. The whole mix instantly says Autumn, Thanksgiving and Halloween for me. I have taken pictures of the polish in one coat and in two coats so you can compare the opacity of the glitter. Both versions look good :) 
It applied easily and I did not have to carefully place the glitter, it just somehow went on nicely. Also I didn't use any topcoat and as you can see, the surface is not gritty. You can read the story behind the name of the polish here and I've found a video on YT as well :D 


Two coats of Happy Slapsgiving!
Oh Honey..! - red and black glitter in a red jelly base. I see ladybugs/ladybirds on my nails! That is so cute - I can't help myself but stare at the colour! I'm wearing two thicker coats to get the opacity you see. Despite being jelly, it has quite good pigmentation. Some of you might prefer three coats but I always prefer to use just two. The first coat dried very fast and the second one dried slower as there was quite a bit of polish on the nail. It also dries a bit gritty so I had to use a topcoat (would use it anyway). Overall I absolutely love this polish - it's girly, it's cute and it represents another episode of How I Met Your Mother. You can find out more here. 
I was pleased with both polishes. Each bottle has 15 ml, cute cut-out label and black lid. Polishes are also 3-FREE. If you would like to see more from WellNails including glow-in-the-dark creations and franken kits, visit Charlotte's blog or e-shop. Polishes are priced in dollars and paid via Paypal.
Oh and let's not forget the giveaway! There's is a last day of giveaway running and you can win one WellNails polish! Enter HERE.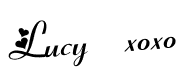 *These were sent to me for a review