Hello lovelies,
it dawned on me that I've never done a summary of my favourite products and trends so this is my première. I've picked 9 of my favourite things of 2013.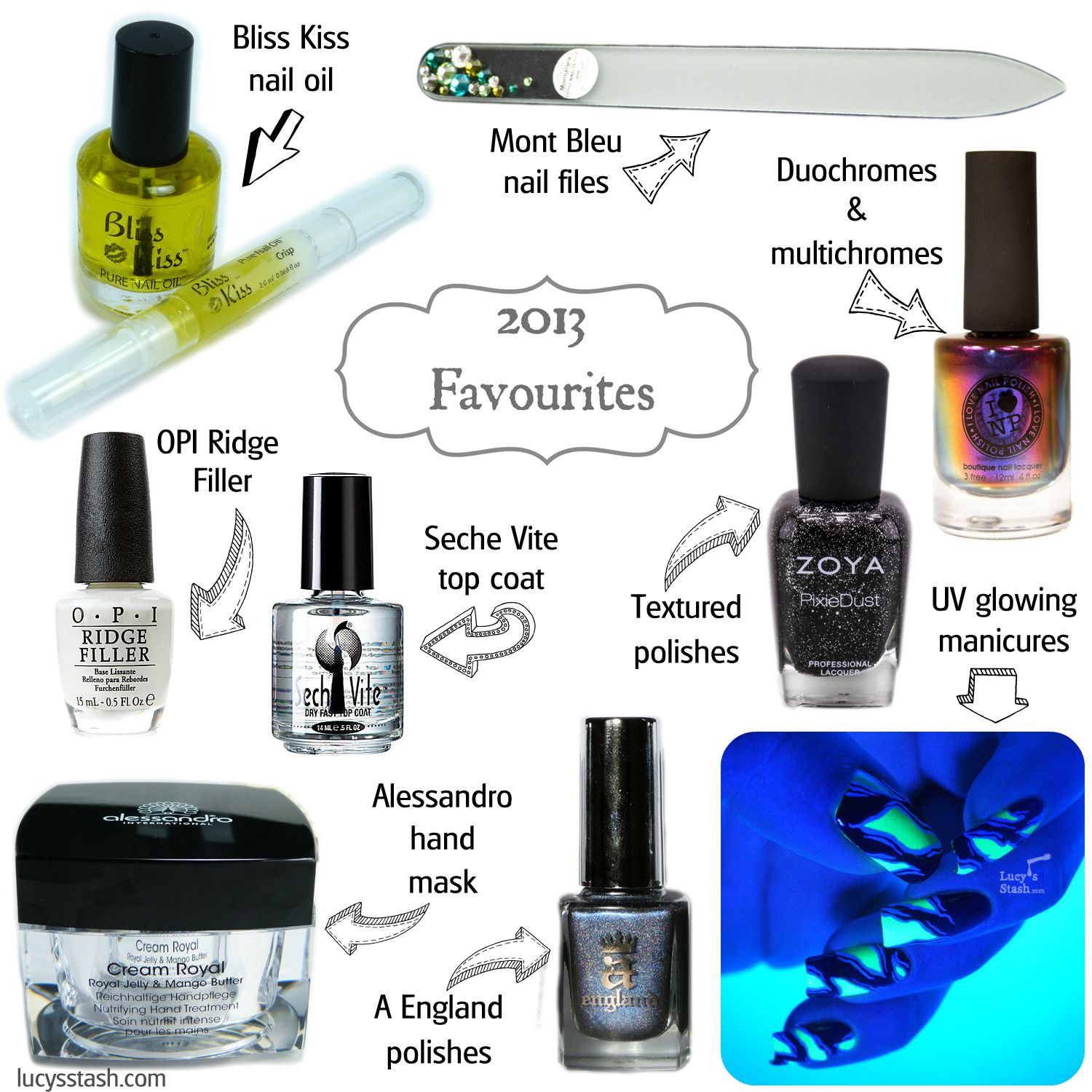 1. Bliss Kiss Pure Nail Oil is a little miracle I've discovered last year (reviewed here) and I hope I never have to give it up. Good nail oil is essential in my nail care routine and I usually switch between the Bliss Kiss, SpaRitual Cuti-Coctail and Glisten & Glow nail oil.
*I have been informed that a big sale and Get Naked Challenge is starting on Monday the 6th!
2. Mont Bleu crystal files - they are extra fine and will last ages and they are my favourite nail files. I use them to finish filing and seal the edges to prevent splitting. Discount code CHRISTMAS works till 5th January and gets you 30% off your order. Code BLOG should work as well.
3. OPI Ridge Filler is my go to base coat and has been for two years now. I'm starting to really like Glisten & Glow Stuck on Blu! but I still prefer OPI a bit more.
4. Seche Vite Fast Drying Top Coat has been my no.1 top coat for few years now and I'm sure it will be my favourite in 2014 too. My second choice at the moment is Glisten & Glow HK Girl which I'll review soon.
5. Alessandro Cream Royal - Royal Jelly & Mango Butter. I've been using this hand mask since spring and love it! I mix a bit with almond oil and massage it thoroughly into my hands. Then I put on cotton gloves and go to sleep only to wake up to silky smooth hands. I bought it at a beauty exhibition and unfortunately I can't find any UK place to buy them atm. There should be some outlets in US available though as Alessandro launched there in 2013.
6. A England had a great year and I absolutely loved Burne-Jones Dream collection (reviewed here). The newest Ballerina collection is also beautiful, post coming soon!
7. UV glowing manicures and polishes were another big thing I loved last year and I will continue to do them this year too. I love how the manicure completely transforms under black light and I love how bright the nails look. You can see some of my UV glowing manicures here.
8. Textured polishes just sprung last year and every brand was doing them. Although my absolute favourite ones were from Zoya for their fine sand-like texture. Zoya Chyna is my no.1 polish for my toes ;) Check out some textured polish swatches here.
9. Duochrome & multichromes are my big love and last year was very generous. My absolute favourites were Cygnus Loop, Birefringence and Mutagen from I Love Nail Polish. But you could have seen some other multichrome collections like the ones from KBShimmer and Darling Diva.
So that's it, those are my 2013 favourites hope you've enjoyed this round up :) I've added links so you can find them easy if you want to.
Have a lovely day!