Review: Bliss Kiss Pure Cuticle & Nail Oil
Hello lovelies,
I think it's time for me to finally share my views on Bliss Kiss Pure Cuticle & Nail Oil. A while ago I got one nail oil pen as a sample from lovely Ana who is the person behind Bliss Kiss brand and I was hooked! I purchased two full sets and I have been using them since (approx. four months now and still haven't used up even a quarter). Little goes a long way, you don't need nails covered in thick layer of oil.
The nail oil comes in different packaging - you can purchase nail oil pens, bottle with a brush and refill bottle of oil. I went for sets of nail oil pen and bottle with a brush because sometimes I like to put more generous amount of oil and massage it into my fingers before I go to sleep. I can still use the oil from the bottle to refill the pens.
It comes in scented and unscented version and usually there are numerous scents you can choose from depending on seasonal collections. I have Crisp which is yummy, not too sweet scent.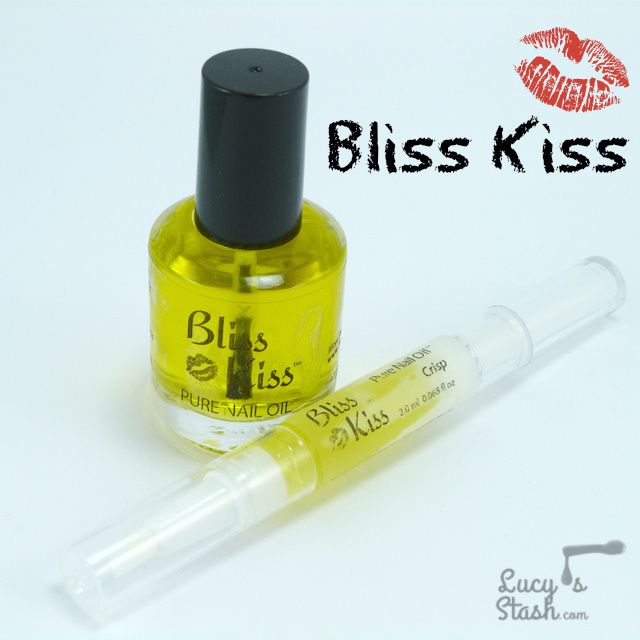 And now for the oil itself - I have read numerous testimonials and blogger reviews and have seen before & after pirctures before trying the oil for the first time. They all sounded and looked great so my expectations were high. My opinion? The oil works great and it's currently my favourite oil together with the SpaRitual Cuti-Cocktail. I use them both regularly and change between them.
The Bliss Kiss oil contains a jojoba wax ester, Grape seed oil, Olive oil, Vitamin E & A and Tea tree oil. Thanks to the high content of jojoba it has anti-fungal, antimicrobial, and antibacterial qualities. It's all very good stuff for nails and it seems to be working great for nourishing the nails and making them nicely flexible so they don't break easily. Moreover, my cuticles have never been better and I seem to have less hangnails too. I haven't had a break in the whole 4 months of using the oil until the other day and it was certainly my stupidity :D
Ana has done an extensive research and has written numerous helpful articles about healthy nails, how to take care of them, the science behind her successful nail oil and much more. I've learnt many things especially when nails break easily and how oil can prevent it. Ana has also developed the 3-Day Initial Hydration Treatment that will get your nails in shape in 3 days using just this oil :) All the information and articles are available at Bliss Kiss website.
So to sum up, it's a great product and I can honestly recommend it to anyone. I wouldn't if it wouldn't help me get strong, healthy nails and hydrated cuticles.
Bliss Kiss oil is available at Bliss Kiss website (worldwide) or on Amazon (US only).
Feel free to ask me questions and have a good day!
*The first pen provided for review, the other proucts purchased by me. Post includes affiliate link