KISS Products Launch Event in London feat. Leighton Denny MBE
*Photos courtesy of Alex Silver PR
Hello lovelies,
I have attended a new product launch event in London on Wednesday evening and it was pretty cool so I want to share it with you!
KISS has been launching their Looks So Natural Lashes and IMPRESS Nails lines. Both lines will launch this month in Superdrug. The event was held in Home House near Oxford Street. The walls inside were beautifully decorated and crystal chandeliers were hanging off the ceiling. I felt a bit out of place as it felt like a really posh place lol....have a look:

One of the entertainment aspects of the event was a nail art competition. Each person had 5 false nails and 5 minutes to create some nail art. My hands never shook so badly I tell you :D We could use any nail art products on the table but I just grabbed pink, blue and black stripers. I wanted to create tribal nails but there was no way I could finish all 5 in 5 minutes so I did the waterfall mani on three nails and started tribal mani on the last two.
Well I don't have to tell you that the result was pretty much terrible :D So terrible I won't even show you! But maybe I'm just too much of a perfectionist and hard on myself because guess what? I won the 1st place! I couldn't believe it, I was so happy! Little moi in the picture with the one and only Leighton Denny MBE and Danielle Peazer.

There were numerous beauty stations where everyone could get their nails and eyelashes done. Of course they were the new ranges of Looks So Natural Lashes and IMPRESS Nails that were being applied. Since I already did nail art on myself I didn't want to have sick on nails done but I caved and had some false eyelashes applied :)

The biggest highlight of the evening for me was the opportunity to chat to Leighton for a while. He's a huge inspiration and after reading his new book 'How I nailed it' which I'll review later, I have so much admiration and respect for him. He was very kind to take a picture with me as well :)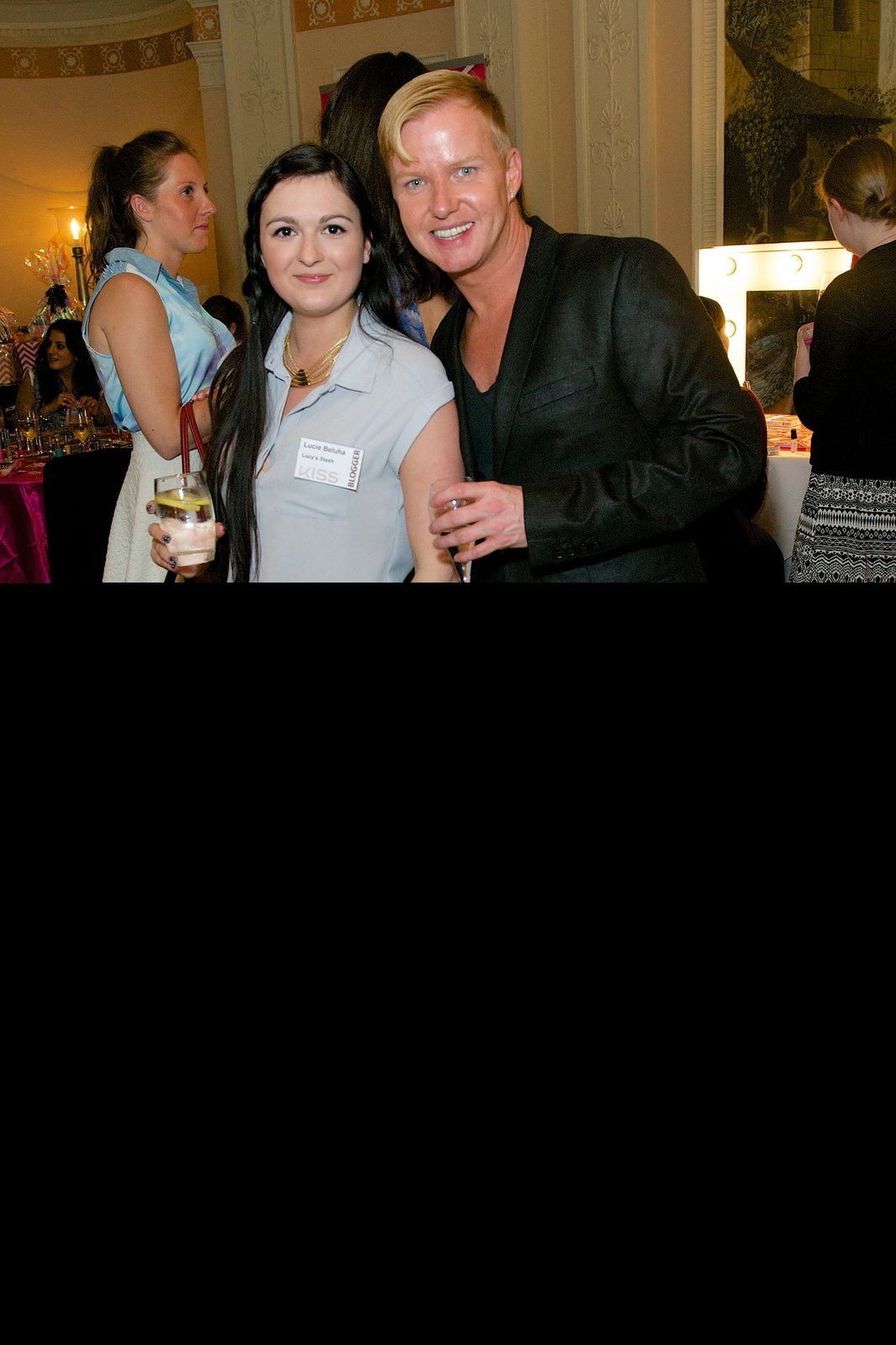 And this is what I came home with. It's a combination of my prize and goodie bag. I don't have to tell you that I'm most excited about the Leighton Denny goodies! I will finally try his crystal nail file! So far I have been using the Mont Bleu crystal nail files which I love but I am very curious as to how they will compare to LD.
I also got a lot of Kiss eyelashes and press on nails which I won't mostly use so I'll be passing some on to my friends and some will go into my future giveaway. And the biggest prize of all is a dinner for two and theatre tickets to London! I've never been to theatre in London so that's very exciting! I am so grateful for all the goodies so big thanks to Kiss, Leighton Denny Expert Nails and Alex Silver PR for organising this event.

What a great event! I really enjoyed it even though I didn't know anybody there. The journey home wasn't as good though as I missed last train at 'reasonable hour' so I had to wait another hour for the next one and got home at half past twelve at night! I had troubles staying awake on the train I tell you :D Still worth it!
I hope you've enjoyed the post and big thanks also to to Alex Silver PR for the photos.
Have a lovely day! Lucie x