*PR sample
Hello lovelies,
Today I'll show you the second part of the Zoya collection for Summer - Stunning. If you've missed the review of the first half of the collection. Irresistible, you can read it here.
Stunning collection consists of six creme polishes in mostly basic colours.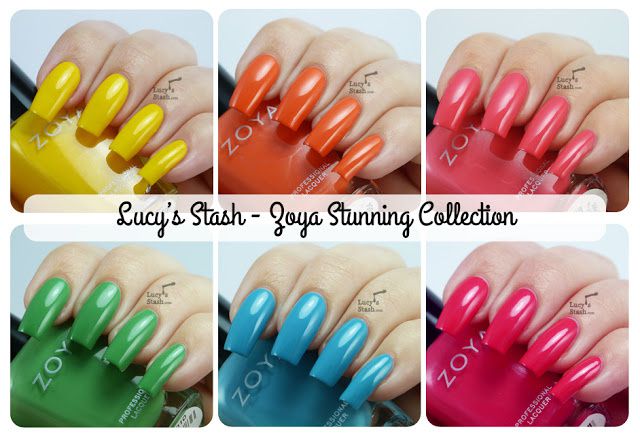 Darcy - warm yellow with very subtle silver shimmer. Wow, I need sunglasses for this one! The colour is super bright and glossy. The application was a bit tricky (I don't know why but yellows usually are). I needed to apply thick coats otherwise the first coat was a bit patchy. Two coats were enough for full coverage.
Thandie - orange creme with very subtle silver shimmer. Pretty but not very original orange shade, might look very nice on toes :) It applied easily and two coats provided full coverage.
Micky - medium pink creme with very subtle silver shimmer. It's a very pretty and girly shade for summer with a hint of coral undertones. The formula was a bit sheerer so I needed to apply thicker coats. Also when I was applying it it was a bit patchy so for this reason I've used the thicker coats as well.
Yana - bright raspberry creme with very subtle silver shimmer.This is so gorgeous shade which my camera just didn't want to picture right! The shade is rich and glossy and it's a great raspberry colour. It applied well and two coats were enough for full coverage.
Rocky - medium blue creme. All I can think of is a clear blue summer sky, such a gorgeous colour. I'm wearing two thicker coats as the polish seemed to be little bit sheerer to me. It applied well and dried glossy.
Josie - pea green creme. Grass or peas, both match perfectly this green creme shade. If you're one of the green-shade lovers, you probably won't want to miss it.Two coats provide full coverage and the formula was nice and easy to apply.
This collection offers classic creme shades with a hint of shimmer. They all have good formulas but can be a bit patchy if you're using thin coats. All shades were opaque in two coats and dried fast. I've applied topcoat over all swatches.
Zoya polishes are available at your usual outlets or at zoya.com